GE Partners With Cooledge Lighting and 2 More Dow Movers to Watch
General Electric Company (NYSE:GE): Current price $21.83
GE Lighting has reached a joint-development accord with Cooledge Lighting through which to develop a customized GE Lightech LED power-supply driver as a key component in Cooledge's first full range of LED light sheet solutions for fixture firms. These solution are to be introduced this week at the LightFair International trade show in Philadelphia (Cooledge Lighting booth 3712 and GE Lighting booth 2101). GE Lighting's arrangement with Cooledge goes beyond the LED driver integration, to include the development of high performance LED phosphors and LED solutions aiming at a broad array of commercial applications, among which include signage and retail refrigeration applications.

Hewlett-Packard Co.  (NYSE:HPQ): Current price $19.75
The company reports the new HP ExpertOne Accredited Technical Associate, which is information tech for Business certification to assist business students in preparation for a job market in which tech insight is key to achieving business objectives. IDC states that as organizations increasingly depend upon management of large data to meet their customers' needs, marketing and IT must collaborate more closely to attain business goals.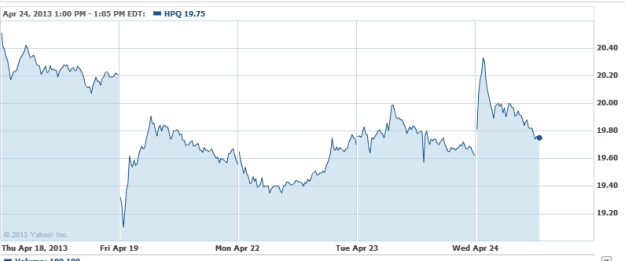 Johnson & Johnson (NYSE:JNJ): Current price $84.83
J&J will host a review of its Pharmaceuticals Business for the Investment Community beginning at 8:30 a.m. Eastern Time on May 23 at the Hyatt Regency Hotel in New Brunswick, New Jersey, and ending at about 3:00 p.m. Paul Stoffels, M.D., Worldwide Chairman Pharmaceuticals, and Chief Scientific Officer and Joaquin Duato, Worldwide Chairman, Pharmaceuticals will conduct the meeting, which will also feature presentations from the therapeutic area leaders inside the Pharmaceuticals Research and Development organization.

Don't Miss: Are Gun Stocks Ignoring Obama and Congress?