GE Partners With Green Waste Energy and 2 Other Dow Movers To Watch
General Electric Company (NYSE:GE): Current price $23.19
On Wednesday, GE and Green Waste Energy reported they have reached a frame agreement for GE to provide an undecided number of ecomagination-qualified Jenbacher gas engines through which to power a series of Advanced Recycling and Energy Conversion plants that GWE's development subsidiary, Green Waste Energy Development, intends to construct on a global basis. GWED employs C6 Technologies' proprietary and patent-pending, non-burn waste-advanced pyrolysis tech in its AREC projects. The C6 tech can transform a broad range of wastes into "syngas," which can then be utilized in gas engines to generate cleaner electricity or produce "greener" transportation fuels like diesel and jet fuel.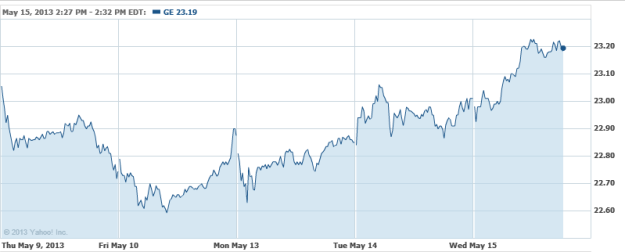 Hewlett-Packard Co. (NYSE:HPQ): Current price $20.84
The company announced on Wednesday new solutions to step up enterprises' deployment of SAP (NYSE:SAP) applications, and also provide the flexibility and choice that clients require to make quicker and more informed decisions. HP Enterprise Services for the rapid deployment of SAP Business Suite software powered by SAP HANA, and HP Enterprise Cloud Services for SAP applications are created to give customers a step change in predictability and speed to value. Beyond that, they offer alternative cloud deployment models that allow clients to run their SAP applications more efficiently and effectively.

Merck & Co. (NYSE:MRK): Current price $46.74
On Tuesday, Merck saw its unsecured debt rating cut one gradation by Moody's Investors Service, and now it intends to sell bonds to fund share buybacks. The company will issue three- and five-year securities that might include similar-maturity portions of floating-rate notes, alongside fixed-rate 10-year and 30-year bonds, according to a knowledgeable source. In a regulatory filing on Wednesday, Merck indicated that a "substantial portion" of the proceeds will fund share repurchases that could come to $7.5 billion over the next 12 months.

Investing Insights: Petrobras: Is It A Risky Investment?