GE Partners With Lawrence Berkeley Lab on Water-Based Battery and 2 More Heavily Traded Stocks to Follow
General Electric Co. (NYSE:GE): Current price $23.20
GE and Lawrence Berkeley National Laboratory are working jointly on a new water-based battery that could give an upgrade to electric cars such as Tesla's Model S and Nissan's Leaf, which might even lower their price tags.
The proposed battery employs water-based solutions of inorganic chemicals that would supply high-energy density, and allow energy discharge and recharge to be safer. Project leader Grigorii Soloveichik observed in a statement that, "Our flow battery could be just one-fourth the price of car batteries on the  market today, while enabling roughly three times the current driving range. The DOE wants a battery that can power a car for 240 miles; we think we can exceed that."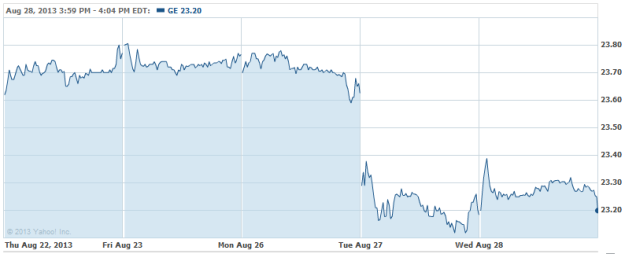 The Coca-Cola Co. (NYSE:KO): Current price $38.35
As part of the back-to-school season, The Coca-Cola Co. and the Hispanic Scholarship Fund are meeting together with top retailers to announce the intro of Share Possibilities. This yearly Hispanic Heritage Month scholarship program will bestow $200,000 in scholarships to help close the college attainment deficit among Latino students.
Vice President of Multicultural Marketing, Coca-Cola North America Group, Lauventria Robinson remarked that, "It's an honor to have the opportunity to support the community and provide Hispanic families the means to achieve their educational dreams and aspirations. This program allows us to bring the community together and share moments of happiness with families across the country."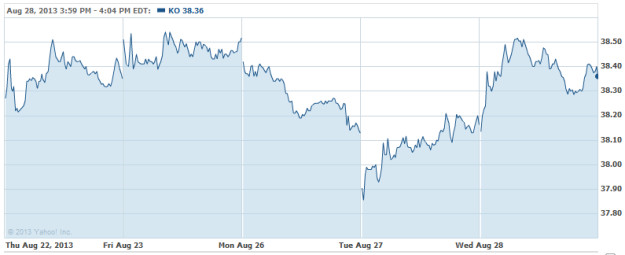 Comcast Corp. (NASDAQ:CMCSA): Current price $41.92
On Wednesday, Comcast Corp's movie ticketing service Fandango announced that it is buying Quantum Loyalty Solutions, which develops promotions connected with ticket sales. The purchase would permit Fandango, which sells tickets for American theater chains with over 21,000 screens, to expand its current promotional services that let ticket owners enter a sweepstake to win a car and obtain a free iTunes download, along with other incentives.
Quantum's Hollywood Movie Money service supplies incentives that include sweepstakes and coupon redemption for tickets accepted for movies at one of the over 36,000 domestic screens.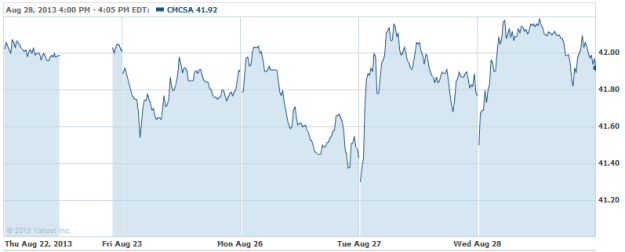 Don't Miss: 9 Perfect Small SUVs to Buy Under $25,000.