GE Posts Strong Earnings, Microsoft Hurt By Surface Sales: Market Recap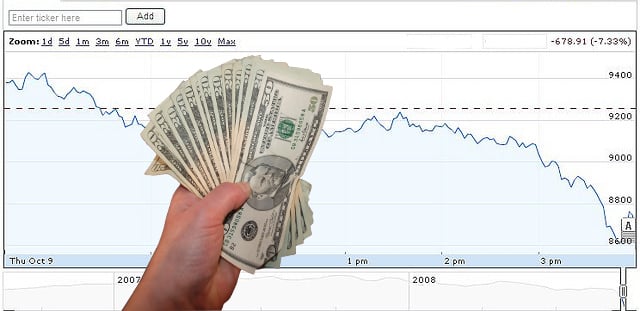 The Nasdaq and Dow indexes fell Friday upon disappointing earnings reports from tech giants Google Inc. (NASDAQ:GOOG) and Microsoft Corp. (NASDAQ:MSFT), while the S&P 500 remained flat. Better-than-expected earnings results from General Electric (NYSE:GE) helped balance the market, leading to a lukewarm day for U.S. stocks overall.

Gold: +0.79% to $1,294.30 per ounce; Oil: +0.25% to $108.31 per barrel; U.S. 10-Year: -1.70 to 2.491%
Economic Evolution: China Frees Lenders to Compete: China is finding the road toward freer markets to be a tough one, nevertheless still moving in that direction – on Saturday, the communist country will allow lenders to set their own borrowing rates and compete for the first time. The move marks a significant milestone for China, where controlled rates were seen as stifling to domestic consumption… (Read more.)
G-20 Summit: Concerns and Hopes of the Global Economy: International community members continue their trend of telling each other what to do as Group of 20 countries met in Moscow this week. Economic headlines remained largely unchanged over the past month or so as China continues to slow down and revamp its economy, Europe slogs through recession, and the United States grows at an unexciting yet consistent pace… (Read more.)
Here's your cheat sheet to today's top stocks stories:
Time Warner Cable Inc. (NYSE:TWC) may not renew a contract with CBS Corp. (NYSE:CBS), because the network is asking too much money for the rights to its programming. That means subscribers to Time Warner's pay-TV service may lose CBS on their service. According to a statement from Time Warner cited by Bloomberg, CBS is asking 600 percent more than its affiliates receive for access to their programming… (Read more.)
General Motors Co. (NYSE:GM) may have come a long way since its bankruptcy, yet some scars continue to show. A Toronto judge ruled against the U.S. automaker's Canadian affiliate this week, ending a class-action lawsuit brought by former GM Canada employees three years ago. GM could lose hundreds of millions of dollars if the decision ends up holding through the appeal process… (Read more.)
GlaxoSmithKline (NYSE:GSK) has reportedly sent some of its executives, including its head of emerging markets, to China to help the company respond to bribery allegations it's facing in the country. According to Reuters, emerging markets head Abbas Hussain, the head of internal audit, and one of the company's senior legal officials were all dispatched to deal with the problem, and have already landed in the country… (Read more.)
Google Inc. (NASDAQ:GOOG) posted disappointing earnings after the bell on Thursday. Consolidated revenue increased 19 percent on the year to $14.11 billion, missing the average analyst estimate of $14.42 billion. Adjusted earnings increased decreased 5.9 percent on the year to $9.56 per diluted share, missing the average analyst estimate of $10.78 per share… (Read more.)
Microsoft Corp. (NASDAQ:MSFT) reported that fourth-quarter net income came in at $5 billion, or 59 cents per share, which included a charge of $900 million, or 7 cents per share, "related to Surface RT inventory adjustments." Last fall the company released a tablet, the Surface, which was its first foray into the hardware industry. But since the beginning, the reviews of the device were not overwhelmingly positive, nor were the sales figures, and that problem was fully evident in the company's financials… (Read more.)
General Electric Co. (NYSE:GE) climbed on Friday after reporting strong second-quarter earnings. Total revenues declined 3.78 percent on the year to $35.1 billion, below the average analyst estimate of $35.58 billion. Adjusted operating earnings declined 5.26 percent on the year to 36 cents per share, in line with the average estimate… (Read more.)
Chipotle Mexican Grill (NYSE:CMG) closed the regular session up 0.26 percent and climbed as much as 4.32 percent higher in post-market trading after reporting second-quarter earnings that came in ahead of expectations. Revenue increased 18.2 percent on the year to $816.8 million, beating the average analyst estimate of $802.78 million… (Read more.)
Follow Jacqueline on Twitter @Jacqui_WSCS
Don't Miss: 8 Companies Winning the Battle for Online Video.