GE Pushes Renewable Energy Abroad with This Move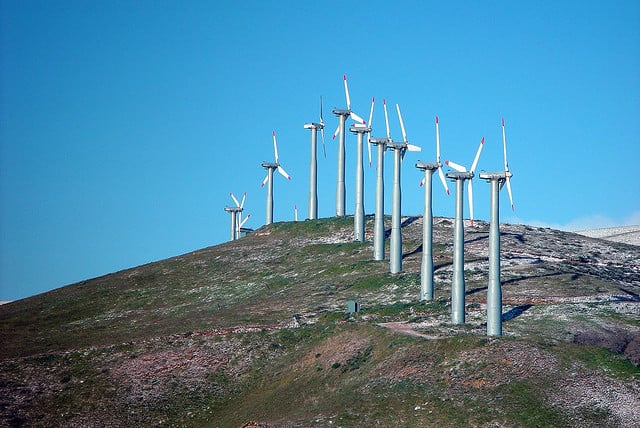 General Electric (NYSE:GE) is back to pushing its renewable energy program, this time over the Baltic. The energy and industrial giant announced it provided 18 wind turbines to power the Paldiski Wind Farm in Estonia, which opened this week to a ceremony attended by company officials and the country's president. The opening of the wind farm will help the EU nation continue powering past its renewable energy goals.
The site of the Paldiski Wind Farm is ideal for harnessing the raw power of gusts coming off the Pakri Peninsula, according to the head of Estonia's energy management board. This makes the site another point on the country's renewable energy scorecard. European Union countries have to meet the goal of 20 percent renewable energy by 2020, with 10 percent renewable energy in the transportation sector.
GE's installation of 18 2.5-100 wind turbines at this Baltic location will provide Estonia with another source of power to keep the country's renewable energy output on target. After nearing the 25-percent mark in 2010, the country pushed passed it in 2011 and seems poised to continue heading in that direction, per EU guidelines. GE is making the case for its own clean energy projects following the drop of a major solar project.
Last week, GE announced it had abandoned plans to build the largest solar power plant in the U.S., a project that had a price tag of $300 million. Instead, the company regrouped and sold off part of its solar technology to First Solar (NASDAQ:FSLR), with whom it will conduct research at GE locations in upstate New York.
GE's renewable energy push in Europe is suited perfectly for the region's goals of upgrading technology. Eesti Energy, an Estonian state-run company, noted that the town of Paldiski (pop. 4,000) was the country's first to be powered by completely renewable energy sources. GE reps are touting the company's turbine efficiency as other countries in the area look to upgrade technology.
"Wind continues to play a significant role in powering communities, and GE's wind turbines offer high efficiency and reliability for a broad range of wind conditions," said the company's general manager of GE Renewable Energy Europe. "Our 2.5-100 wind turbine is a product of GE's evolution in the wind industry and is an excellent addition to the multi-megawatt wind sector."