GE Shakes Its Money Maker and 2 Hot Stocks to Watch
General Electric's (NYSE:GE) new energy storage system, "Durathon," is up and running. On Thursday, the company announced its first European sale of Durathon, to the U.K.'s Western Power Distribution, which is seeking to improve electricity delivery to its customers with minimal carbon footprint. Western Power will buy and, in the third quarter of 2013, test five Durathon 100 kilowatt-hour energy storage systems to see if they will help the electric company in this effort. Durathon, a sodium-nickel battery, is described as being a "no self-discharge" battery system. GE has already invested $100 million in building a Durathon Battery manufacturing facility in New York, which opened in July 2012.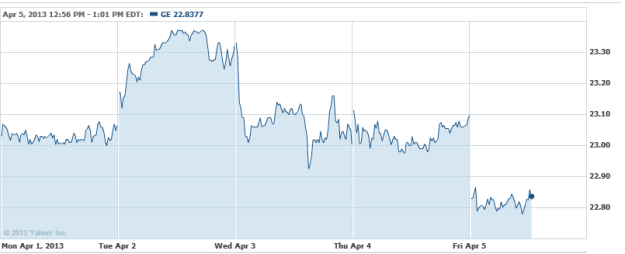 Best Buy (NYSE:BBY) is taking a cue from J.C. Penney's turnaround efforts and running with the store-within-a-store idea it has already widely implemented with Apple. The big-box retailer will create kiosks for Samsung products next in its ongoing battle against "showrooming" as more and more customers browse in stores but buy online. CEO Hubert Joly has spearheaded efforts to counter the showrooming effect by introducing an online price matching policy that encourages people to buy from Best Buy rather than competitors. The store is also now giving employees extra training so that it may lure in customers with the promise of expert advice and knowledge. In-store prices are also being cut as the company revamps its stores. The deal with Samsung will establish 1,500 dedicated kiosks at Best Buy and Best Buy Mobile stores. Shops will offer the full range of Samsung's mobile products, including smartphones, laptops, tablets, cameras, and accessories.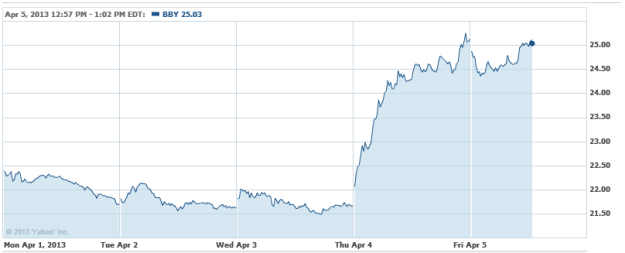 Pfizer (NYSE:PFE) will keep its $3.2 billion-a-year consumer health business, said CEO Ian Read, who has been shrinking operations since taking over in late 2010, cutting expenses and divesting various units, including animal health and infant nutrition. The CEO has talked about splitting the drugs business in two — one unit focusing on brand-name medicines, the other on generic drugs without patent protection — but no decision has been made. Read did say that the consumer health business, which makes ChapStick lip balm, Advil, and Centrum vitamins, is not one of the units on the chopping block, according to a Bloomberg report. As medicines continue to shift to nonprescription status, he said on a March 26 call, "It's a business that has a great store of value for us."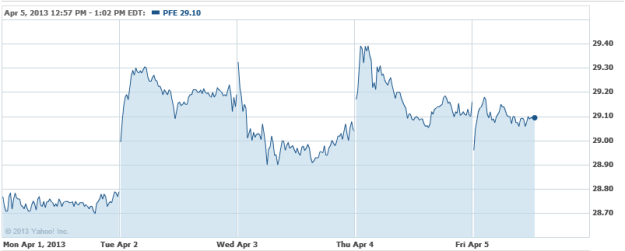 Investing Insights: Can Exxon Mobil Move Higher?