GE Spending Billions on This Attempt at Cleaner Energy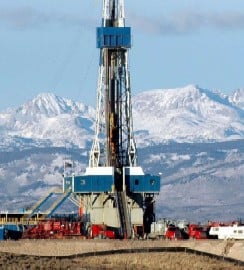 While hydraulic fracturing — known as "fracking" — gains enemies in states across the country, General Electric (NYSE:GE) is investing in ways to make the process more palatable for communities. GE has announced it is investing billions of dollars in a bid to make the oil and gas drilling boom less damaging to people's health and the environment at large.
The AP reports that GE, though not a company with its own drilling operation, will invest heavily in technology for companies engaged in fracking and other elements of the oil and gas business. GE will open a laboratory in Oklahoma in hopes of finding ways to lessen the impact on communities where fracking enters the picture in the current energy boom. The industrial giant is also buying companies whose focus is equipment for oil and gas drilling.
Mark Little, a senior VP at GE, told the AP that, while cleaner energy options exist, he thinks "the world needs all of these kinds of systems." GE is trying to develop technology that would identify danger zones deep inside the wells energy companies are drilling. As a result, risks to the environment could be minimized, and communities might find themselves more receptive to the concept of fracking. At least one environmental advocate considers the development encouraging.
"I think it is a positive response to legitimate public concerns about the environmental impacts" of the boom in hydraulic fracturing, said Michael Shellenberger, who is the president of the Breakthrough Institute. He also mentioned that other companies besides GE have gotten on board, and called it "the kind of continuous improvement of technologies that's needed."
Since fracking is not going away any time soon, most observers are welcoming the effort to make the process less damaging overall. Similar efforts have been made in the automotive and aviation industries, once considered highly polluting and highly dangerous, respectively. GE won't change many minds on the topic of fracking, but at least it can change the way oil and gas drilling affects a community. In that respect, it is difficult to question the soundness of the move.
Don't Miss: GE's Immelt Hops Onto 3D Printing Craze.