GE to Sell US & Canadian Assets and 2 Other Hot Stocks to Watch
General Electric Company (NYSE:GE): Current price $23.75
Continuing the present strategy of its parent in shrinking its financial side after the 2008 crisis, GE Capital will divest some real estate assets in the United States and its Canadian vehicle leasing business. In separate agreements reported on Friday, GE Capital announced that it would sell its $807-million U.S. property portfolio to American Realty Capital Properties, while Element Financial Corp will purchase its Canadian auto fleet portfolio for $553.48 million. Last week, General Electric indicated that it was thinking of spinning off parts of the financial arm via an initial public offering.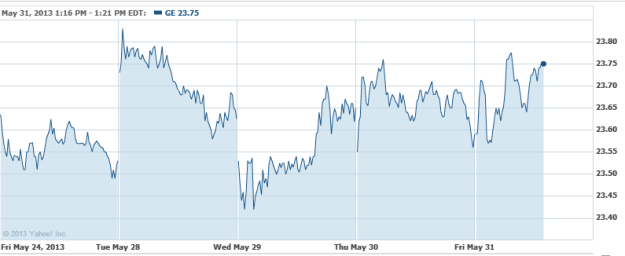 Morgan Stanley (NYSE:MS): Current price $26.30
Bank of China and Morgan Stanley are working jointly to provide $7 billion in loans to finance Shuanghui International's record offer to acquire the American pork producer Smithfield Foods, said inside sources on Friday. The total value of the Chinese firm's record agreement came to $7.1 billion, including net debt, according to the acquisition announcement on Wednesday, but the parties did not report details on how Shuanghui financed the play. According to the sources, Bank of China has supplied as much as $4 billion in financing to Shuanghui, through a five-year term loan, and will syndicate the facility. For its part, Morgan Stanley is adding $3 billion in a term loan, and will also sell down the amount. The $7 billion of financing will go into the $4.9 billion in cash that Shuanghui will pay Smithfield, with remainder going to refinancing Smithfield's debt.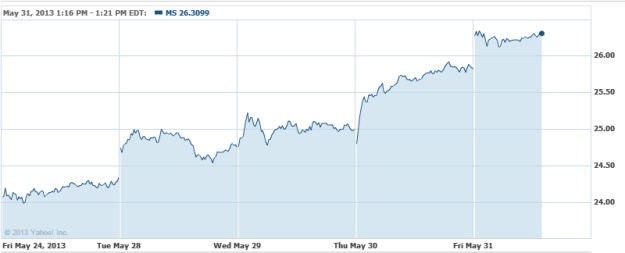 AT&T (NYSE:T): Current price $35.40
The telecom major is partnering with KUBE 93 radio station and the Washington State Patrol in a campaign known as It Can Wait. The project's goal is to save lives by heightening public awareness about the dangers of texting while driving. It is anticipated that over 500 drivers from the greater Seattle area will attend an event on Friday, and sign a pledge to never send or read a text while driving. Vehicles will participate by driving through a course with stations where local drivers will find out about the ramifications of texting while driving, have an opportunity to win Summer Jam concert tickets, and also take the "It Can Wait" pledge to not text and drive.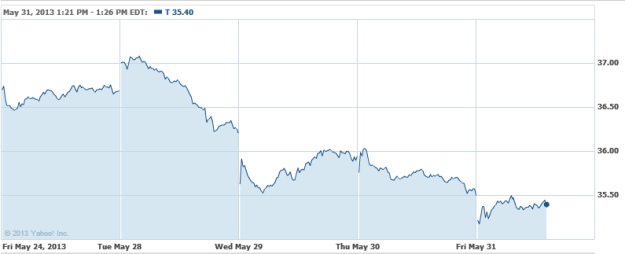 Don't Miss: GE's Immelt Hops Onto 3D Printing Craze.