GE vs. Honeywell: Which Company Do Investors Pick for the New Normal?
In his October monthly commentary, Bill Gross said there is only a "New Normal" economy at best, and a global recession at worst to look forward to.  Now, with earnings season in full swing, investors are able to see which companies are adjusting to the new normal.  On Friday, two industrial leaders reported third-quarter earnings.
General Electric (NYSE:GE), an advanced technology, services, and finance company, reported a 57% increase in net income.  Net income rose to $3.22 billion, compared to $2.06 billion last year.  Industrial giants such as GE give investors an insight to future economic growth, and GE gave investors a reason to worry.  GE said growth in the company's industrial orders slowed in the third-quarter.  GE reported that growth slowed to a rate of 16% from last year, compared to 24% in the second quarter.  Nicholas Heymann, an analyst at William Blair & Co. said, "The industrial order growth wasn't bad, but it failed to clear the bar."  Over the past ninety days, the average estimate for the fourth quarter has edged down from 40 cents per share to 39 cents, indicating that analysts are growing pessimistic about the company's performance next quarter. In the past month, the average estimate for the fiscal year has fallen from $1.38 per share to $1.35 per share.  In the past six months, shares have slid 18% as investors continue to worry about the global slowdown.  Shares of GE fell nearly 2% after the earnings report.
Investing Insights: What's Going On With Gold?
Honeywell International Inc. (NYSE:HON) is another company that investors pay close attention to.  Honeywell is a technology and manufacturing company that competes with other giants of industry like Boeing (NYSE:BA), Goodrich (NYSE:GR), and Lockheed Martin (NYSE:LMT).  Compared to the previous year, Honeywell's net income rose 45% for the third-quarter, as sales increased 14%.  "Honeywell's strong third-quarter results are a continuation of the momentum we've seen across our businesses in 2011," said Honeywell Chairman and CEO Dave Cote. "Our third-quarter sales growth reflects a particularly robust Commercial Aerospace up-cycle, with growth in both original equipment and aftermarket sales. Our long-cycle backlog continues at near record levels, with sustained strong orders growth particularly at UOP, ACS Solutions, and Commercial Aerospace. Further, our short-cycle businesses, such as Turbo Technologies, Advanced Materials, and ACS Products are performing well overall."  Although shares are down 15% in the past six months, shares popped 5.5% after the strong earnings report.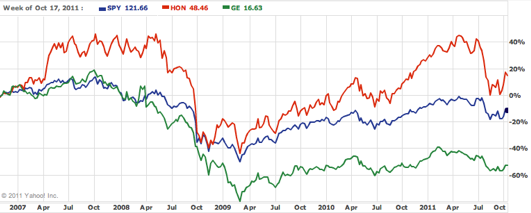 As the chart above shows, shares of Honeywell have outperformed General Electric (NYSE:GE) and the S&P 500 (NYSE:SPY) index since 2007.  A clear sign that investors believe that Honeywell (HOM) will fair better in this uncertain economy.
Numerous economic reports and earnings releases are sending mixed signals about future growth aspects of the global economy.  When it comes to investing, it is vital that investors recognize which companies will be able to adapt and remain profitable no matter how weak the economy is.  Judging by Friday's pop in Honeywell, the markets are believing in the company, and its CEO.  David Cote said, "You have to be flexible because you don't know which way the economy is going to go.  If it crashes you got to be ready, if it booms, which is a possibility, you got to be ready."  Going forward, investors will also be watching Caterpillar's (NYSE:CAT) earnings release here (which beat estimates), and earnings from UPS (NYSE:UPS) on Tuesday, in order to gain a better reading on the global economy.
Don't Miss: 5 Stocks Winning Despite Record Misery Levels.