General Business Conditions Continue Their Downward Slide
Manufacturing activity in New York unexpectedly contracted this month, falling to the lowest level in four months. On the back of declines in both new orders and employment, the New York branch of the Federal Reserve's "Empire State" general business conditions index dropped to a minus-1.43 in May from 3.05 in April. This was the first reading below zero since January, and a reading below that level shows that the sector contracted.
Economists polled by Reuters had expected the index to increase to 4.
Since the beginning of the year, the index has been falling; in February, the benchmark manufacturing measure came in at 10.04, while March recorded a reading of 9.24. The New York index contracted throughout the later part of 2012 before rebounding temporarily in February.
"This latest dip is modest, but is nonetheless a bit disappointing in the wake of the rise in the NFIB small business index reported [Tuesday]," said Pantheon Macroeconomic Advisors chief economist Ian Shepherdson in a note to clients, seen by MarketWatch.
Reported ahead of the Philadelphia Federal Reserve's business outlooks survey and the Institute for Supply Management's manufacturing index, Empire State Manufacturing Survey — a monthly study based on the responses of roughly 175 manufacturing executives in New York State — provides one of the first monthly indicators of where the economy is headed.
Economists already believe that growth has cooled in the second quarter from the 2.5 percent annualized pace recorded at the beginning of the year. However, recent stronger-than-anticipated gains in the labor market and retails have allayed concerns that the economy has significantly slowed, even though the gains were slight.
For May, the new orders gauge and the employment gauge kept the general business conditions index in negative territory. The report showed that new orders fell to their lowest level in four months, falling to a minus-1.17 from 2.20, while inventories dropped to minus-7.95 from minus-4.55. Alongside this decline, the index for the number of employees decreased from 6.82 to 5.68 and the average employee workweek index fell to minus-1.14 from 5.68. Together, these figures show very clearly that business activity is not accelerating.
Even more concerning, companies felt less optimistic about future growth, with the index of business conditions six months in advance dropping from 31.95 to 25.48.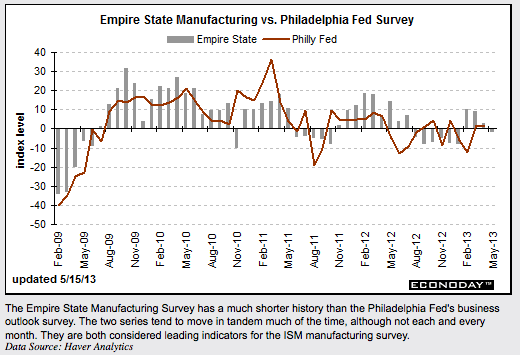 You can follow Meghan on Twitter (@MFoley_WSCS) for the latest industry news.
Don't Miss: Who's a Better Employer: the Government or Wal-Mart?