General Dynamics Wins US Navy Contract and 3 Stocks Riding 52-Week Highs on Wednesday
General Dynamics Corporation (NYSE:GD): Closing price $71.73
General Dynamics' wholly owned subsidiary General Dynamics Electric Boat has won a $20 million contract modification by the United States Navy for nuclear-maintenance work for submarines in their home port at the Naval Submarine Base in Groton. Through the terms, Electric Boat will continue to operate the Nuclear Regional Maintenance Department at the submarine base, and will also provide project management, planning, training and nuclear services in support of maintenance, modernization and repairs. A core group of roughly 25 Electric Boat employees are assigned to the NRMD, with surge groups of as many as 100 shipyard employees assigned for short periods. Shares closed up 6.9 percent on the day at $71.73, having been traded in a 52-week range of $61.09 to $72.01.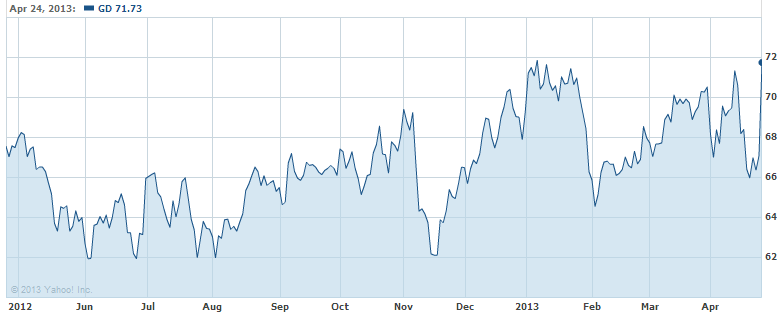 Copano Energy (NASDAQ:CPNO): Closing price $41.26
Copano has announced the successful conclusion of the consent solicitation relating to its 7.125 percent Senior Notes due 2021. As of 5:00 p.m., Eastern Time, on April 16, Copano had received consents to the adoption of certain proposed amendments to the indenture governing the notes from holders of around $506 million in aggregate principal amount, or 99 percent, of the outstanding notes. The consent solicitation was made pursuant to the consent solicitation statement dated March 28, as amended. Shares closed unchanged on Wednesday at $41.26, and have been traded in a 52-week range of $24.24 to $41.41.

Euronet Worldwide (NASDAQ:EEFT): Closing price $29.90
Euronet Worldwide's subsidiary Euronet 360 Finance has launched end-to-end prepaid card issuing, processing and BIN sponsorship solutions in Europe. The company, under the supervision of the United Kingdom's Financial Conduct Authority, now supplies both electronic money and payment services through card issuing, BIN sponsorship and payment card purchasing. By passporting the e-money license across the Single Euro Payments Area territory — except Monaco — Euronet 360 Finance Ltd. can issue cards and process transactions throughout the entire European Economic Area. Shares closed up 6.71 percent on Wednesday at $29.90, having been traded in a 52-week range of $15.91 to $28.25.

First Solar (NASDAQ:FSLR): Closing price $45.11
First Solar has reached an agreement with Southern Power and Turner Renewable Energy, a subsidiary of Southern Company, to divest its 139-megawatts Campo Verde Solar Project. Pursuant to the contract, First Solar will build the power plant and operate and manage it for a term of 10 years. Shares closed up 11.82 percent on the day at $45.11, and have been traded in a 52-week range of $11.43 to $41.00.

Don't Miss: Is GM Really Making the Cleanest Car in America?