General Electric, Caterpillar Earnings and 4 Dow Industrial Stocks Making News This Week
The Boeing Company (NYSE:BA): Current price $92.95
On Monday, Boeing began the installations of reinforced lithium ion batteries on five grounded 787 jets owned by the launch customer All Nippon Airways , thus commencing a process that should make the first commercial Dreamliners ready for flight in around a week. Air Nippon spokesperson Ryosei Nomura said that teams of Boeing engineers are working on the ANA jets at four airports in Japan, including the giant Haneda and Narita hubs.
United Continental Holdings  (NYSE:UAL), which is the sole domestic carrier to operate Boeing's 787, has transported the first of its Dreamliners to a Texas facility for the installation of a new battery system that United States regulators approved last week. The plane was flown by three United pilots from Los Angeles to Kelly Field in San Antonio, according to United spokeswoman Christen David to Bloomberg, adding that  United is collaborating with Boeing on a timetable for installing the battery system on its other five Dreamliners.
Japan says that it will permit its airlines to restart Boeing Co 787 flights, which will allow ANA Holdings  and Japan Airlines to resume operations with the jet. Transport Minister Akihiro Ohta told reporters in Tokyo that an approval may come very soon, but he did not indicate whether the approval was for commercial or test flights. Boeing has dispatched around 300 personnel on 10 teams to the airlines to install the repair over five days, while readying the handover of new 787s.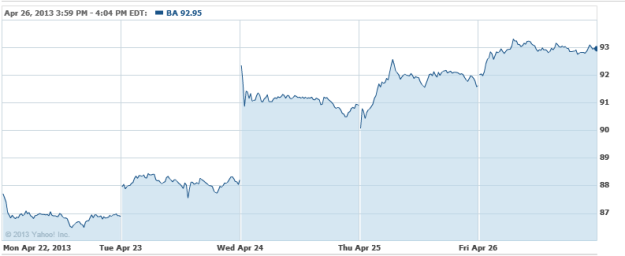 E.I. DuPont de Nemours and Company (NYSE:DD): Current price $52.95
On Tuesday, DuPont announced that its board has approved a 5-percent increase in the firm's quarterly cash dividend, raising the second-quarter dividend from 43 to 45 cents per share for common stock, payable June 12, to stockholders of record as of May 15. This represents the 435th consecutive quarterly dividend since DuPont's first dividend in the fourth quarter of 1904. Executive Vice President and Chief Financial Officer Nicholas C. Fanandakis remarked that "increasing the dividend reflects DuPont's confidence in our global growth strategy, strong balance sheet and solid track record of market-driven science. We will continue to deliver shareholder value through ongoing innovation, productivity and new business opportunities."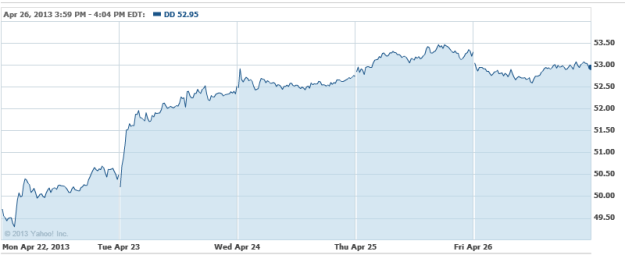 Caterpillar (NYSE:CAT): Current price $84.65
The company posted a profit per share of $1.31 in the first quarter, which  is down year-over-year from the 2012 profit per share of $2.37.  First-quarter 2013 sales and revenues came to $13.210 billion, marking a decline from $15.981 billion in the same period. Profit stood at $880 million in the first quarter of 2013, compared year-over-year with $1.586 billion in 2012.
Caterpillar has made a definitive agreement with Citibank through which to purchase shares of its common stock under an accelerated stock buyback program. Pursuant to the agreement, Caterpillar will repurchase $1 billion of its common stock from Citi, with an immediate delivery of roughly 11 million shares based on current market prices. The ultimate number of shares to be bought and the total cost to Caterpillar will be calculated on Caterpillar's volume-weighted average stock price during the term of the transaction, which should be completed in June. Caterpillar Chairman and Chief Executive Doug Oberhelman commented that "This $1 billion accelerated stock repurchase program also underscores our confidence in Caterpillar's long-term prospects for growth and affirms our commitment to deliver superior returns to stockholders through the cycles."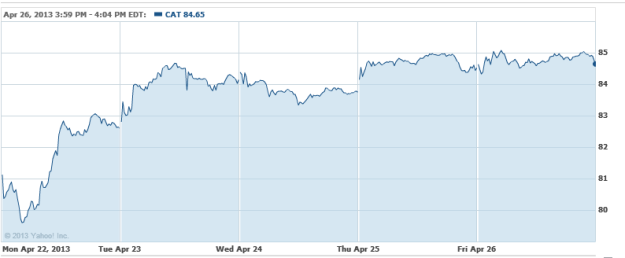 General Electric Company (NYSE:GE): Current price $22.20
GE Lighting has reached a joint-development accord with Cooledge Lighting through which to develop a customized GE Lightech LED power-supply driver as a key component in Cooledge's first full range of LED light sheet solutions for fixture firms. These solution are to be introduced this week at the LightFair International trade show in Philadelphia (Cooledge Lighting booth 3712 and GE Lighting booth 2101). GE Lighting's arrangement with Cooledge goes beyond the LED driver integration, to include the development of high performance LED phosphors and LED solutions aiming at a broad array of commercial applications, among which include signage and retail refrigeration applications.
General Electric's finance arm is severing its relationships with gun dealers, ceasing financing offers at roughly 75 gun shops throughout the country, after the Newtown massacre. GE's headquarters is located in Fairfield County, Connecticut, which is approximately 20 miles from Newtown. GE Capital said that the change in its policy should not pose a material effect on sales, nor should it affect the financing of guns bought at stores such as Wal-Mart, which sell more than just weapons.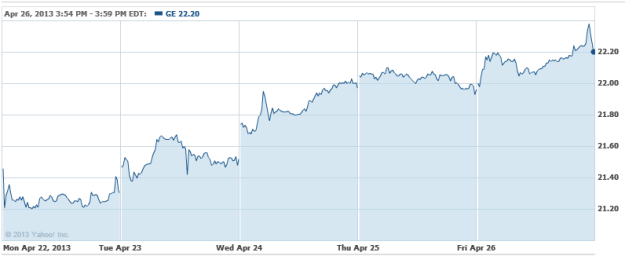 United Technologies Corporation (NYSE:UTX): Current price $91.17
United Technologies' Pratt & Whitney Rocketdyne has concluded the last in a series of hot-fire tests on a J-2X engine with a stub-nozzle extension at simulated altitude conditions. This latest phase in the development of  the next rocket engine allows full-motion testing of the J-2X engine, which was created to take humans to Mars. The J-2X has been selected by NASA as the upper-stage propulsion for the evolved 143-ton (130-metric-ton) Space Launch System, which is an advanced heavy-lift launch vehicle.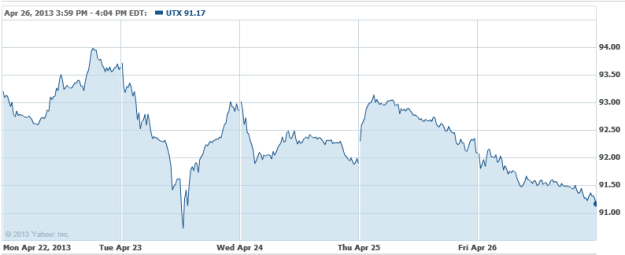 Investing Insights: What Do These Factors Say About DuPont?
3M Company (NYSE:MMM): Current price $103.83
3M Purification is introducing the 3MPro Reverse Osmosis Drinking Water Filtration System, which helps supply cleaner, better tasting water using multi-stage filtration, and which includes a high-pressure booster pump for increased output. The addition of the booster pump provides the 3M Pro RO a consistent pressure of 100 pounds per square inch, alongside the ability to deliver 36 to 50 gallons of water per day. Standard reverse osmosis filter systems depend upon the house's own water pressure, which typically ranges between 30 and 60 psi, and experiences  variations, but the 3M Pro RO's booster pump delivers a consistent driving pressure of 100 psi, regardless of the regular feed pressure coming into the home, dramatically raises its production.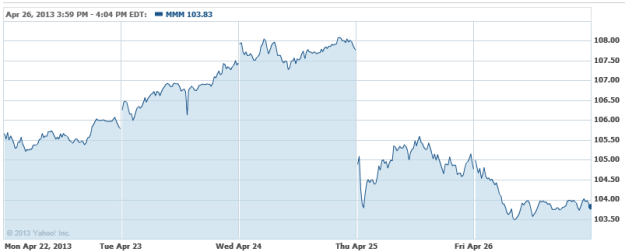 Investing Insights: Should Abercrombie & Fitch Be In Your Portfolio?