General Electric Posts Higher Earnings and 2 Other Hot Stocks to Watch
General Electric Company (NYSE:GE): Current price $21.80
Heightened profit from selling aircraft engines and transportation equipment, along with the sale of NBC, pushed earnings up in the first quarter, but results were kept back by wores than anticipated economic conditions in Europe. GE posted a net income of $3.5 billion, or 34 cents per share, on revenues of $35 billion, compared year-over-year with $3 billion, or 29 cents per share, on $35.2 billion in revenue in 2012. Adjusted to show earnings from only continuing operations, the company earned 35 cents per share, which equals what analysts who had been surveyed by FactSet expected.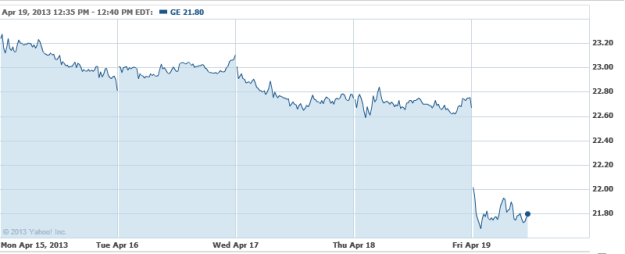 Barrick Gold Corporation (NYSE:ABX): Current price $17.97
The corporation's planned bonus to its co-chairman John Thornton has raised the ire of a group of Canada's largest pension funds, which announced on Friday tat it will oppose the move and the election of the gold miner's compensation committee s well. In the latest hit to the world's biggest gold producer, the funds said that the award of an $11.9 million bonus payment was "unprecedented" in Canada. Thornton is expected to succeed Barrick founder and chairman Peter Munk as head; Barrick has faced a spate of problems of late, including a slumping share price and the partial halt to the construction of one of its biggest projects.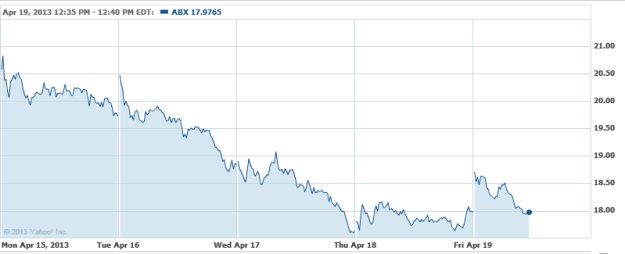 Vodafone Group (NASDAQ: VOD) Current price $29.56
Shares rose by over 195 pence in early trading in London, after Thursday's positive trading update from Verizon Communications (NYSE: VZ)  added to the United Kingdom-based telecom's recent price. Meanwhile, the management at Verizon soft-pedaled the importance of Vodafone incurring a huge capital gains tax bill from the potential divestiture of its 45 percent stake in joint-venture Verizon Wireless, with Chief Financial officer Francis Shammo commenting, "We are extremely confident that such a transaction could be accomplished in a manner that is very tax efficient and would not result in a tax on the gain in that stake."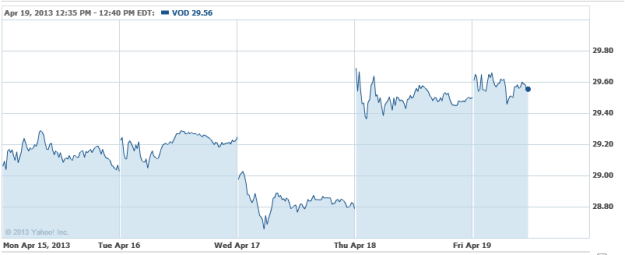 Don't Miss: Are These Companies Making the Markets Cry?