General Electric Posts Q2 Net Income Rise and 2 Other Hot Stocks to Watch
General Electric Co. (NYSE:GE): Current price $24.90
On Friday morning, GE's second quarter results showed that it earned $3.13 billion, up year-over-year from $3.11 billion in 2012. In addition, the company said that its shares earned 30 cents, versus 29 cents in the first quarter. Revenue slipped by 4 percent, from $36.5 billion to $35.12 billion. However, when adjusted to show earnings from continuing operations, General Electric earned 36 cents per share, 2 cents less year-over-year, but one cent above consensus by FactSet.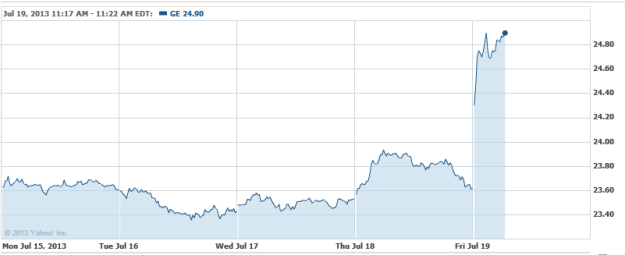 Advanced Micro Devices Inc. (NYSE:AMD): Current price $3.98
AMD shares are down more than 16 percent in morning trading Friday, after being downgraded by Morgan Stanley and Credit Suisse because of its second-quarter results on Thursday afternoon. Analyst John Pitzer at Credit Suisse lowered the stocks from Neutral to Underperform, commenting that even though the results and guidance exceeded Wall Street's estimates, forecasts for the firm's profits from videogame consoles seemed to be excessive. Pitzer wrote that "It is also unclear to what extent new gaming platforms are incremental relative to AMD's current royalty position."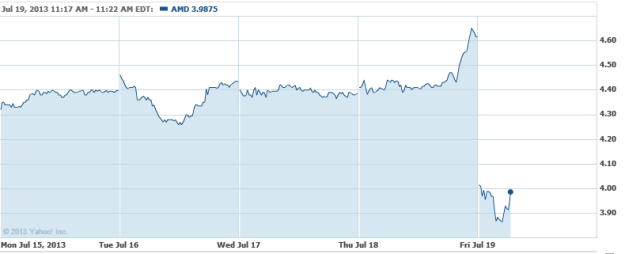 Synovus Financial Corp. (NYSE:SNV): Current price $3.29
On Friday, Synovus reported that it will redeem all 967,870 shares of its Fixed Rate Cumulative Perpetual Preferred Stock, Series A, issued to the United States Treasury through the Capital Purchase Program established under the Troubled Asset Relief Program, for the total purchase price of $967.87 million. The firm will employ internally available funds (including a $680 million dividend from its wholly owned subsidiary, Synovus Bank) to fund more than two-thirds of the redemption price. The company also announced Friday the beginning of an underwritten public offering of $185 million of its common stock.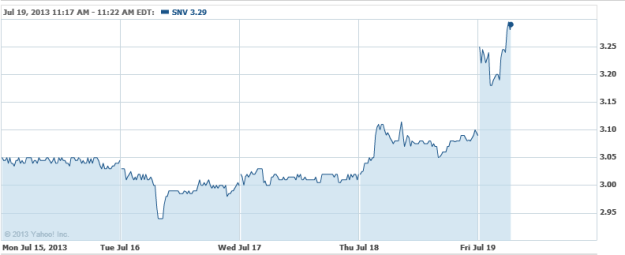 Don't Miss: GE Earnings: Soft Growth But Good Outlook.