General Electric's Disruptive Move and 4 Dow Industrial Stocks Buzzing This Week
General Electric Company (NYSE:GE): Current Price $21.74
While most firms jealously protect their patents, GE and the social product development company Quirky are working jointly to permit "at-home" inventors access to thousands of lab-tested patents. GE and Quirky, a four-year old company based in New York City, are not at all similar, but the Quirky founder Ben Kaufman says, "There's one thing we both have in common, believe it or not. We both stand for invention. We believe humans should leave the world a better place than they found it, and invention is a vehicle for that. Quirky's business model allows anyone to become an inventor." The company uses crowdsourcing through which to develop and provide feedback and shares as much as 30 percent of any resulting revenue, if a product is brought to market.

The Boeing Company (NYSE:BA): Current Price $87.89
On Monday, federal aviation regulators will order special inspections and, if necessary, replacement of improperly made parts on over 1,000 Boeing 737 jets that might cause pilots to lose control, according to The Wall Street Journal. Industry officials called the directive unusual, since it applies to factory defects that potentially affect such a large number of planes, particularly relatively new versions of the most widely-employed jetliner flown by carriers globally. The Federal Aviation Administration's safety mandate covers certain corrosion-prone pins utilized to attach movable tail panels to the jetliner's fuselage.
Transportation Secretary Ray LaHood reported on Monday his department will not hurry its review of Boeing's plan to fix battery problems for its grounded 787 Dreamliner, but that a decision could come "soon," according to Reuters. The Secretary told reporters, "We're not going to short circuit it. We're going to take our time. When we're finished reviewing their plan, we will announce it to the world." When asked about a timeline for a decision on Boeing's plan, LaHood said "soon."
The Wall Street Journal reports that FAA Administrator Michael Huerta is giving the biggest hint thus far that the regulators and Boeing are nearing the end of the global grounding of the 787 Dreamliner. Huerta has now advised lawmakers that the company "has completed all required tests and analysis" of the battery repairs, among which include supplying an extensive group of documents that should demonstrate their safety.
On Friday, two inside sources reported that Federal Aviation Administration approval to lift the 787 Dreamliner flight ban might come as early as this afternoon, Eastern Time. Meanwhile, investors sent Boeing's shares higher on word that regulators seemed poised to end a three-month grounding that cost millions of dollars and damaged the reputation of the world's biggest planemaker. However, one source said that at the time,  no final decision had been made.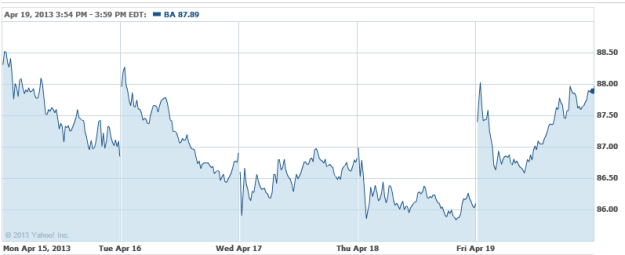 Alcoa (NYSE:AA): Current Price $8.08
Randall Scheps, world automotive marketing director for Alcoa, projects that his company should more than triple its sales of aluminium sheet to automakers by 2015, as they shrink car weight by substituting the commodity for steel in car bodies, according to Reuters. Revenue from auto sheet, which is primarily used in car bodies, is expected to jump to $580 million by 2015 from $160 million in 2012, said Scheps, who commented, "It is moving from the very expensive, luxury vehicles into the mass market vehicles. That's what so exciting about what's going to happen in the next two or three years." Tough emission standards are pressing automakers to reduce the weights of cars, and aluminum is one-third of the weight of conventional steel, but it is more expensive.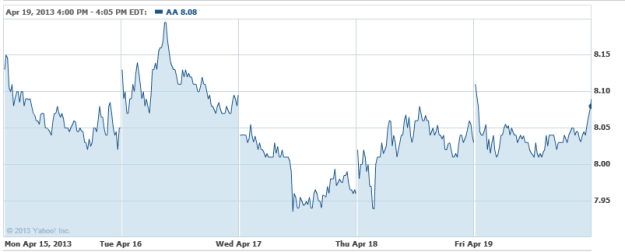 Don't Miss: How will U.S. Automakers React to Obama's Invitation to Japan?

Caterpillar (NYSE:CAT): Current price $80.41
Shares have been downgraded at Macquarie from Outperform to Neutral, because the firm thinks that Caterpillar might reduce guidance due to a stalling macro-momentum. Beyond that, the research firm notes an ongoing drag from China, along with higher than anticipated declines in expenses in mining capital expenditures.
A year ago at this time, Caterpillar was trading at a 52-week high but presently the stock is the worst Dow 30 component year-to-date and is poised to touch a fresh low for 2013, prior of the firm's first-quarter earnings report on Monday. Caterpillar has experienced several downgrades and price target reductions during the past month, with the most recent ones on Wednesday from analysts at Macquarie and Jefferies; they point to China's slowing economy as the main factor in the situation.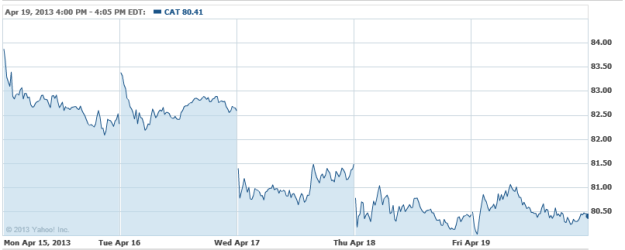 Don't Miss: Google: We Want Apple Back!

Investing Insights: Is Clorox Still a Safe Investment?
E. I. DuPont de Nemours and Company (NYSE:DD): Current price $49.14
The chemical major has received the "Patents for Humanity" award from the United States Patent and Trademark Office  for its research efforts to enhance nutrition, output and availability of sorghum, Africa's staple crop. The program rewards firms who provide life-saving technologies to underserved people of the world, while exhibiting out the importance of patents and showing how they form an integral part of tackling the world's challenges. The award came after a competition to recognize patented technologies which address humanitarian needs.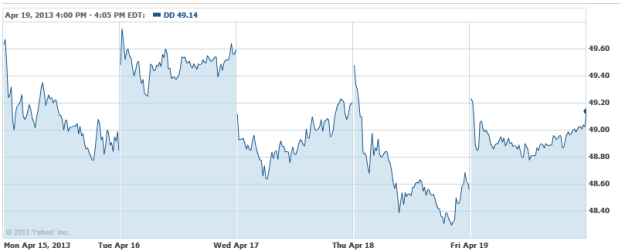 Don't Miss: Rumored iWatch Already Has Interested Customers.