General Motors Outsells Germany and 4 Other Hot Stocks
General Motors (NYSE:GM): For GM, the good news seems to keep coming. The Associated Press has reported that GM sold 2.63 million vehicles for the first quarter, beating out global rival Volkswagen (VLKAY.PK) and lifting its quarterly sales 3.6 percent over the same quarter last year. Although VW gained 5 percent, year over year, its 2.27 million vehicles sold was not enough to take second place from GM. Both companies trail Toyota (NYSE:TM), which is set to release its sales numbers next week. Cadillac spearheaded GM's growth, with sales up 26 percent thanks to an overhaul of its product lines to encourage younger buyers.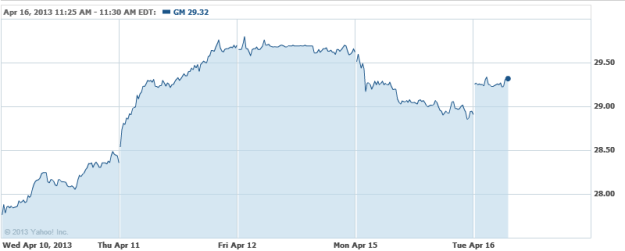 Delta Airlines (NYSE:DAL): A move that was initially meant to save the airline money and create a more efficient supply chain may be backfiring, as the oil refinery that Delta has purchased reportedly lost $63 million during the first quarter, its first in operation. Robert Campbell of Reuters says that the prognosis doesn't look positive either, and doubts that the airline will see the fuel savings that were the driving force behind the purchase in the first place.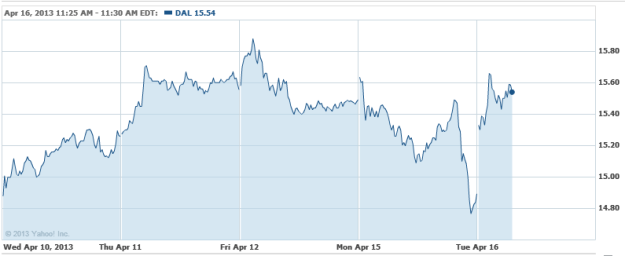 LDK Solar (NYSE:LDK): LDK's shares were driven down on Tuesday, after the company partially defaulted on a $24 million loan due to temporary cash flow shortages, LDK said in a press release. The company has contacted BNY Mellon, which is trustee for the holders of the convertible notes, about structuring a settlement plan moving forward. LDK has already reached an agreement with two bondholders owning about $16.5 million of the 4.75 percent convertible senior notes.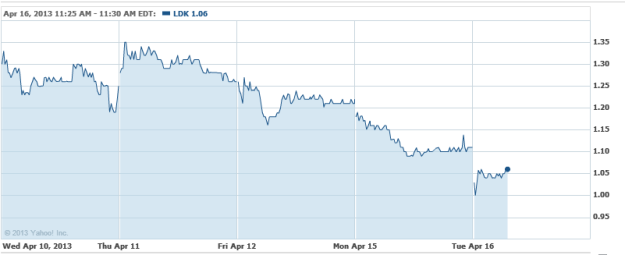 Magnum Hunter Resources (NYSE:MHR): Although not immune to the mining stock slump on Monday, Magnum Hunter is rebounding slightly on Tuesday following the release of its first-quarter operational update. The firm is reaching 20,000 BOE per day, and it is not making adjustments to its annual guidance despite the loss of roughly 3,200 BOE per day later this month, as a result from a prospect sale. The company also intends to fully pay off its Senior Revolving Credit Facility later this month, improving its liquidity position.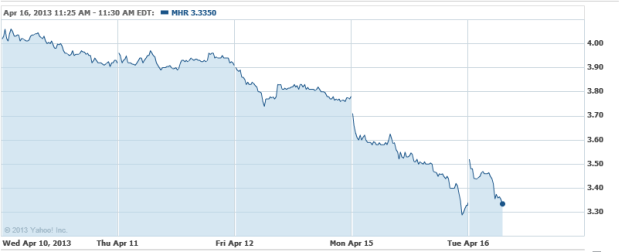 U.S. Bancorp (NYSE:USB): U.S. Bancorp has posted its quarterly earnings, and was happy to report that it experienced a 9 percent rate of growth in earnings per diluted share, or $0.73 for a total of $1.4 billion in net income. Loan growth grew 5.8 percent, while deposit growth clocked in at 7.3 percent. The first quarter revenue of $4.8 billion missed expectations by $0.16 billion, and fees from mortgage banking fell by roughly $50 million. The company also said to expect a recommendation of an 18 percent increase in its second-quarter dividend.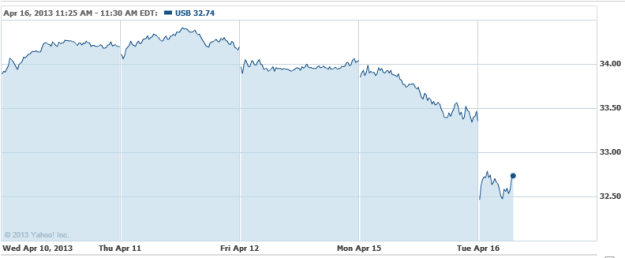 Don't Miss: Ford Pushes Fuel Efficiency With New Engines.