General Motors Ponders The North Korea Situation and 4 Other Hot Stocks
General Motors (NYSE:GM) has a busy week coming up. CEO Dan Akerson is planning to visit Germany, to visit with chancellor Angela Merkel and discuss plans to restructure the company's labor agreements. GM is exploring the option of closing its Opel plant in the country, following the falling out of the last request to decrease the workforce there.
Additionally, Akerson has said that the company is looking into options for its South Korean operations, where the company holds a huge presence. Increasing hostilities from North Korea have caused GM to initiate contingency plans to ensure the safety of its employees, "to the extent that [it] can," Akerson said. "Beyond that it's difficult to shift production." GM has five plants in South Korea where it builds 145,000 vehicles for domestic sales and 1.3 million for export, Akerson added.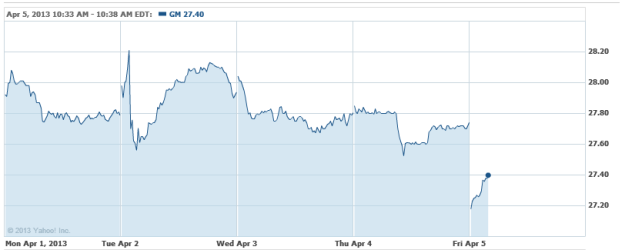 Antares Pharma (NASDAQ:ATRS) has received a notice of allowance from the U.S. Patent Trade Office, for the application of its VIBEX QuickShot. The devices will be bound for Teva (NYSE:TEVA) by the end of the first quarter. Antares and Teva have entered into an exclusive agreement, where Teva must purchase all of its epinephrine auto-injector device requirements from Antares, the company said in its press release. The unit will be launched in June of 2015, or earlier in certain circumstances, pending approval from the U.S. Food and Drug Administration.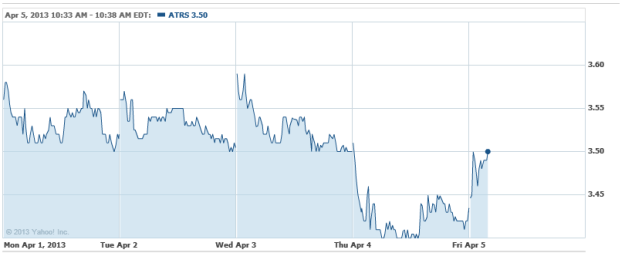 Macy's (NYSE:M) and Williams-Sonoma (NYSE:WSM) received a healthy boost in their respective kitchen appliance departments, as sales for 2012 approached 10 percent over 2011. High-tech additions to basic units like toasters, coffee makers, blenders and so on have attracted a new wave of baby boomers, and men as well, who previously were not exactly the type to be excited by small appliances. NPD analyst Debra Mednick said that driving the trend is Americans' growing desire to eat healthier and buy tools that help them prepare natural foods.

Don't Miss: Tesla's Model S: Is The Cheap Route Real?