General Motors Q3 Profit Jumps on European Revenue and 2 Other Hot Stocks to Watch
General Motors Co. (NYSE:GM): Current price $37.25
GM shares are up over 3 percent Wednesday after the auto maker reported a better-than-anticipated third-quarter profit, attributed to its new lineup of pickup trucks and other revamped models driving North American results, along with a rise in European revenue for the first time in two years. The impressive showing in North and South America and the improvement in Europe was able to outweigh the slump in Asian markets other than China, including India and Southeast Asia. Chief Financial Officer Dan Ammann commented that GM's European division remains set to hit its target of breaking even in the next year or two.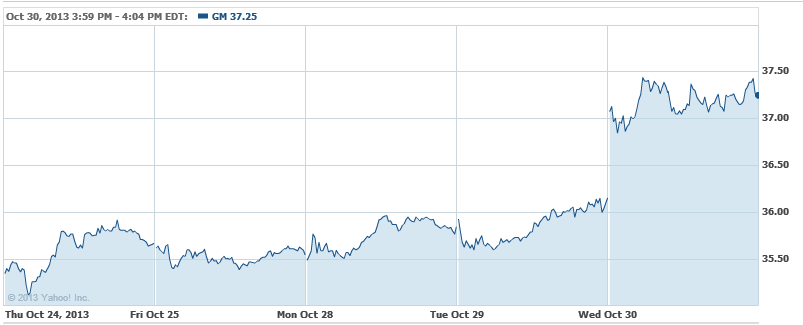 Western Union Co. (NYSE:WU): Current price $16.91
Western Union shares are tumbling on Wednesday after it posted a decline in third-quarter earnings late Tuesday. The firm said that its quarterly profit fell to $214.4 million, or 39 cents a share, from $269.5 million, or 45 cents a share year-over-year. Third-quarter revenue slipped from $1.42 billion to $1.41 billion for the same period. Western Union said that it will accelerate compliance investments next year, which implies compliance-related expenses could rise to a range of between 3.5 and 4.5 percent of 2014 revenue from about 2.5 percent in 2013.

NQ Mobile Inc. (NYSE:NQ): Current price $12.33
NQ Mobile Co has completed the transfer of approximately $25 million of its term deposits formerly held at Industrials Bank Co. Ltd. to its account at Standard Chartered Bank. Shares are up as much as 17 percent in heavy trading Wednesday, continuing their rebound following a near-crash earlier in the week caused by accusations from Muddy Waters.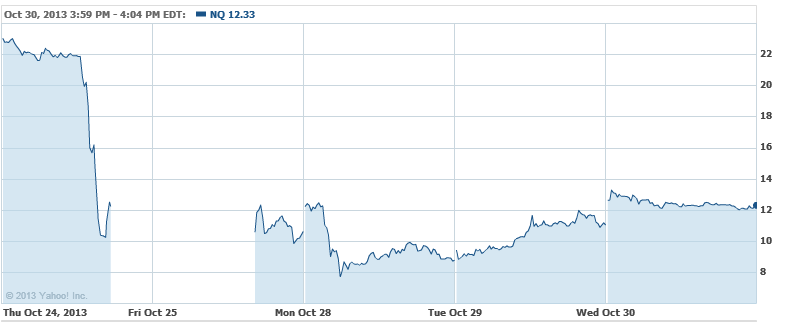 Don't Miss: Toyota Keeps Global Sales Crown Just Out of GM's Reach.