General Motors Sees Margin Expansion, Comcast's Mixed Quarter, and 3 More Hot Stocks
General Motors Corp. (NYSE:GM): EPS of 96 cents was enough to beat projections by 3 cents, though revenue of $39 billion missed by $0.5 billion. Margin improvement in North American during the third quarter helped GM beat the profit estimates as the automaker ended the quarter with adjusted automotive free cash flow of $1.3 billion. Further, Deutche Bank believes that the margin expansion is sustainable, as it reiterates a Buy rating and a price target of $46 on the stock.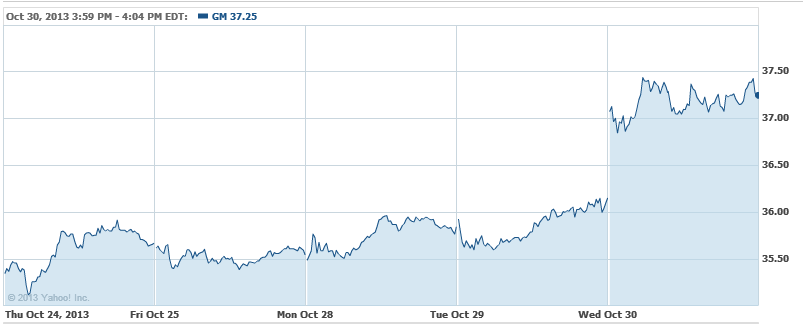 Comcast Corp. (NASDAQ:CMCSA): Share of Comcast are trading down as EPS of 65 cents beats by 4 cents, and revenue  of $16.15 billion misses, by $0.11 billion. Revenue from the Cable Communications unit increased 5.2 percent to $10.5 billion in the third quarter as gains in high-speed Internet and business services helped offset lower political advertising compared to a year ago. NBCUniversal saw sales fall 14.2 percent to $5.9 billion, although after the results of last year's Olympics is removed, the comparison turns into a 3.9 percent gain.
Under Armour (NYSE:UA): Under Armour CEO Kevin Plank says that women's apparel could reach the $1 billion mark by 2015, which bodes well for the company that sees the segment accounting for 30 percent of the company's business already. However, "a promising new marketing campaign" tailored specifically for women is set to launch next year.

Teva Pharmaceutical Industries (NYSE:TEVA): Teva shares are selling off as CEO Jeremy Levin announces his resignation, just two days after the company denied a report that he was thinking of quitting due to a rift over strategy with Chairman Phillip Frost. Teva has appointed CFO Eyal Desheh as the interim chief, while it looks for a permanent successor to Levin. "We view this news as a significant setback as the company's recently implemented strategy to [get] back on a growth path, including recent accelerated cost reduction initiatives, could be called into question," says Goldman Sachs analyst Jami Rubin.

Spirit Airlines (NASDAQ:SAVE): Despite EPS of 79 cents — beating by 3 cents — and revenue of $456.62 million, also beating projections (by $4.05 million) — shares of Spirit are plunging over 6 percent. The company's margins reached 20.3 percent, the highest pre-tax margin in the company's history. Total revenue per available seat mile for the third quarter 2013 reached 12.55 cents, an increase of 8.9 percent over the same period in 2012.