General Motors Takes a Breath, Kellogg Stays On Track For Guidance, and 3 Other Hot Stocks
General Motors (NYSE:GM): GM shares are running hot following the company's quarterly results, in which the company beat its earnings estimates by $0.12 with $0.67 per share, while revenues of $36.9 billion — although down 2 percent for the year — beat by $300 million. Net income of $865 million fell 14 percent, "The year is off to a strong start as we increased our global share with strong new products that are attracting customers around the world," CEO Dan Akerson said, apparently unruffled by the declines and confident in the revamped lineup that the company will be bringing over the remainder of the year.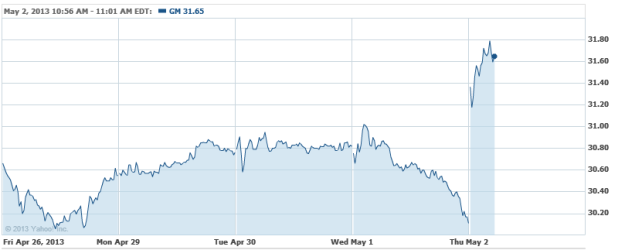 Kellogg Company (NYSE:K): Shares are down slightly after the company reported its quarterly results, which reflected a narrow miss of $0.08 billion for revenues of $3.86 billion, and earnings per share of $0.85. Inflation had a negative impact on costs, but maintained that it is on track to meet its full year guidance. North America, Europe, and Latin America all saw growth, and the company approved a $1 billion share buyback program.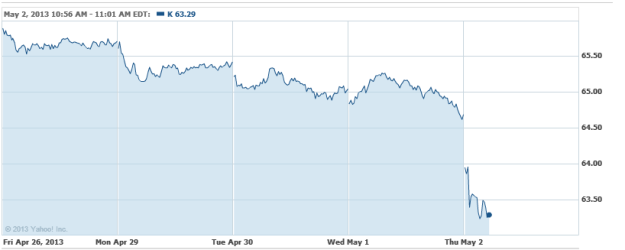 Statoil (NYSE:STO): Lower production and reduced prices were cited for the 58 percent decline in profits year-over-year, with adjusted earnings falling at NOK 42.4 billion compared to NOK 59.2 billion in the year-ago period, with analysts' consensus of NOK 47.98 billion. Overall production of 1.99 million BOE per day fell from 2.19 million a year ago, in part due to an attack on the Algerian In Amenas gas plant. Note: NOK 1.00 = $0.173.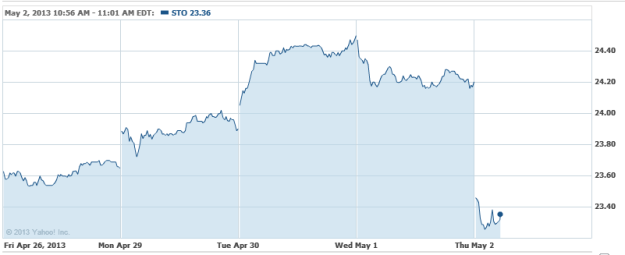 3M Company (NYSE:MMM): 3M has decided to retire its sporting line, particularly its fly fishing division which it will sell to Orvis for an undisclosed sum. Scientific Anglers and Ross Reels are two companies currently operated by 3M, but will be passed off to the Manchester, Vermont-based Orvis. Though the match was unusual to begin with, the manufacturing company applied its scientific know-how to the industry, and developed lines that float better and dry faster.

MetLife (NYSE:MET): MetLife reported a mixed quarter, with beaten earnings expectations but short for revenue. Earnings of $1.48 per share trounced estimates by $0.18 for a 12 percent gain, but revenues of $16.98 billion fell $52 million shy. Asia and North America showed growth, though Latin America experienced a 3 percent decline, due to lower investment income (though the company notes that revenue in the area increased 20 percent).  During the conference call, management said that the company was comfortable with the top-end of its full year guidance.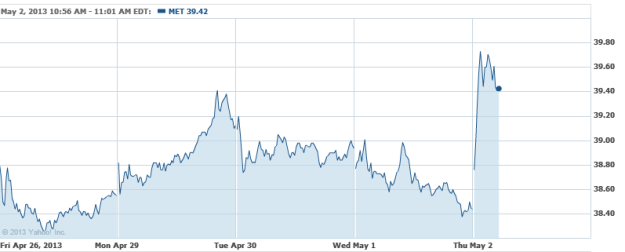 Don't Miss: Chevrolet Ad Blunder Pins Racist Tag on GM.