Genuine Parts Company Earnings: Wall Street Not Happy
On Friday, Genuine Parts Company (NYSE:GPC) reported net income above Wall Street's expectations for the first quarter.  The stock has been hammered since. Genuine Parts Company distributes automotive replacement parts, industrial replacement parts, office products and electrical/electronic materials.
Don't Miss: Wall St. Cheat Sheet's newest Feature Trades of the Month>>
Genuine Parts Company (NYSE: GPC) Earnings Cheat Sheet for the First Quarter
Results: Net income for the auto parts wholesaler rose to $126.5 million (80 cents/share) vs. $100.6 million (63 cents/share) YoY. A rise of 25.7% from the year earlier quarter.
Revenue: Rose 14.3% to $2.97 billion YoY.
Actual vs. Wall St. Expectations: GPC beat the mean analyst estimate of 75 cents/share. Estimates ranged from 70 cents to 80 cents.
Quoting Management: "We feel good about the sales and earnings growth achieved in the first quarter and are optimistic that our businesses will show continued progress over the balance of the year," said CEO Thomas C. Gallagher. "Our management team remains committed to sustaining good revenue growth, further improving operating margins, generating solid cash flows and maintaining a strong balance sheet."
Key Stats:
Last quarter marked the fifth straight quarter that the company saw shrinking gross margins. Over that time, margins have contracted on average 0.9 percentage point per quarter on a year-over-year basis.
With a 25.7% profit increase last quarter, the company has now enjoyed five-straight quarters of double-digit year-over-year profit growth. Last quarter was also the biggest profit spike over that span.
Over the last five quarters, revenue has increased 12% on average year over year. The biggest increase came in the most recent quarter, when revenue rose 14.3% from the year earlier quarter.
Competitors to Watch: Advance Auto Parts (NYSE:AAP), AutoZone (NYSE:AZO), and Navistar International Corporation (NYSE:NAV).
Today's Performance: Shares of GPC are trading at $51.71, down 0.71% from the previous close.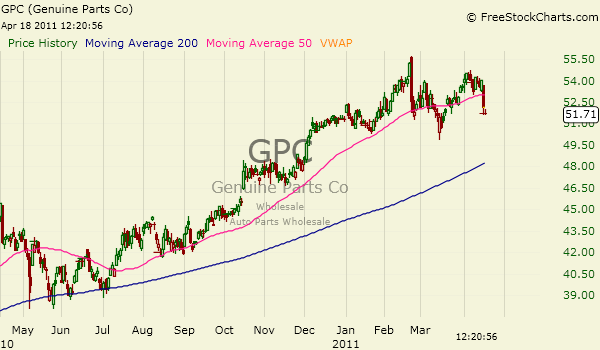 Don't Miss Wall St. Cheat Sheet's newest Feature Trades of the Month!