Germany and EU Still Feuding Over Banking Union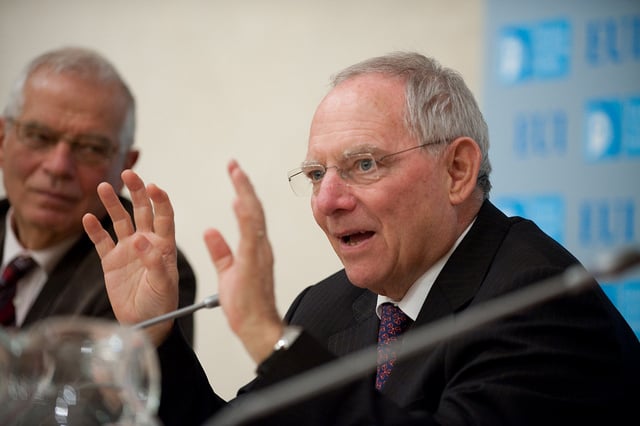 Europe is still at odds over the recently proposed banking union, with Germany questioning the legality of the most recent proposal to set up a central banking authority throughout the European Union.
The current proposal would allow the European Commission to decide when a bank is failing, and whether or not that institution should be shut down or rescued. In the event of a bailout, money from member countries would be used to prop up the bank.
However, from a German perspective, this sort of proposal borders on illegal, as the EU has fundamental laws giving countries control over their own finances. Both France and Britain previously voiced related concerns in deciding how to deal with failing banks within a country, with the order of who pays in the event of collapse stirring up a heated debate. Britain and other countries have advocated for large depositors not to be liable for losses, or else the whole system could be subjected to bank runs.
Defenders of the current proposal maintain they are on firm legal ground.
Michel Barnier, the EU's financial-services chief, tried to alleviate fears after unveiling the proposal today, and said in an interview that Germany's concerns were addressed: "The text states explicitly that the resolution board would not, in any scenario, be allowed to commit a member state's public money without its agreement."
However, the German government was not satisfied, and has for some time been trying to create hype around a network of national authorities for winding down failing banks — again in the interest of their taxpayers. Any central system which leads to the use of sovereign taxpayer money "would imply significant legal risk both in terms of European law and constitutional law," according to a discussion paper written by the German government.
Barnier warned that exploring other options could take too much time, saying, "We need a system which can deliver decisions quickly and efficiently, avoiding doubts on the impact of the public finances, and with rules which create certainty in the market."
His sentiments were echoed by French Finance Minister Pierre Moscovici, who said, "We clearly want an agreement," adding that the agreement should take place "by the end of the year."
However, German Finance Minister Wolfgang Schäuble warned of "major turbulence," and unlike Barnier, sees these new rules as a means by which to create uncertainty for markets.
"We have to stick to the legal basis we have. Otherwise, we will fail and we will create new uncertainty in markets," he said.
Uncertainty is currently an issue for markets, with the European Central Bank recently breaking from tradition after president Mario Draghi told markets to expect low interest rates for some time to come. Draghi's counterpart in England, Mark Carney, is implementing a policy of forward guidance, giving markets more detailed expectations of interest rates to calm their nerves. These actions come on the back of market jitters over losing the United States Federal Reserve's quantitative easing program next year, which Chairman Ben Bernanke has indicated might be on the way out in 2014.
Don't Miss: IMF: Global Economy to Grow Less Than Predicted This Year.