Get Your Veggies in Liquid Form via Starbucks and Whole Foods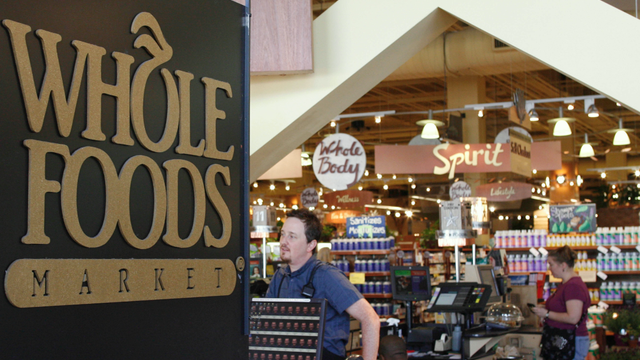 Thanks to this power couple, consumers should expect to find Evolution Fresh juices and Evolution Harvest snack bars in their local Whole Foods (NASDAQ:WFM) stores the next time they need to make a visit. According to The Wall Street Journal, Starbucks (NASDAQ:SBUX) has officially teamed up with Whole Foods to sell its line of Evolution Fresh juices and Evolution Harvest snacks — and consumers will reap the benefits of this partnership as early as Tuesday.
The team effort is a new one, but not surprising, considering the similar consumer base that both companies boast. Starbucks acquired Evolution Fresh in November 2011 for $30 million and has since sold the company's products in its cafes worldwide, replacing offerings like PepsiCo's (NYSE:PEP) Naked Juice and Kind LLC's Kind snack bars.
The move to specialize in fruit juices and smoothies reflects an increased effort by Starbucks to appeal to the growing number of health-conscious consumers who are quickly taking the food industry by storm, and so far, the coffee giant's efforts have been paying off.
Now, Starbucks is ready to expand this success beyond its four walls, and it's looking at Whole Foods to help it do just that. The premium (and pricey) grocery store specializes in the organic and natural food category that Evolution Fresh products fit right into, and that's why the Starbucks-Whole Foods alliance is predicted to be an especially lucrative partnership for both parties.
Thus, starting Tuesday, Whole Foods shelves will be stocked with 12 Evolution Fresh juices as well as three Evolution Harvest snack bars. The number of snack offerings will eventually include trail mixes, freeze-dried fruit, and fruit snacks, but that line is still being perfected. Starbucks expects its Evolution Fresh products to eventually be available in about 8,000 U.S. cafes and grocery stores by the end of the year, so this advance into Whole Foods then marks just the beginning.
The Wall Street Journal reports that Evolution Fresh juices will be shelved beside other high-priced juice offerings such as Campbell Soup's (NYSE:CPB) Bolthouse Farms juices.
However, unlike many superpremium juice competitors like Bolthouse, the Evolution Fresh Brand will stand out because it is bottled with ultra-high-pressure technology that saves the nutritional components and vitamins — which many other juices lose when heat pasteurized. Bolthouse Farms juices, for example, are heated when bottled, thus they lose some of their nutritional value but have a longer shelf life and a cheaper price tag.
Speaking of price tags, Evolution Fresh juices will have one of those as well, ranging from $2.99 to $6.99 for a 15.2-ounce bottle of juice. That's a tough pill (or juice) for just about any consumer to swallow, but retail reports show that those nutrient-driven customers are still going for them, and a lot of them shop for the goods at Whole Foods, a market that USA Today describes as "the nation's organic and natural foods powerhouse."
The publication also highlights the notes of David Vinjamuri, president of ThirdWay Brand trainers, who explains, "Evolution Fresh gets the endorsement of a taste-maker for health-conscious consumers. Whole Foods is, perhaps, the only mainstream retailer that can pass along the high price points of the Evolution Fresh line."
The superpremium juice market is still growing, now valued at $1.6 billion. This proves that consumers are becoming increasingly interested in these nutrient-laden offerings, no matter how high the price, and Starbucks now recognizes where they are going to obtain their juice treasures.
In addition, Starbucks will also start selling the Evolution Harvest snacks at its cafes in the fall. The coffee chain continues to launch other new ventures, which it believes will better cater to the ever-evolving palates of its consumers, and its latest news even mentions something about greek yogurt.
Don't Miss: Whisper Number: How Will Tiffany Investors React to Earnings?