Getty Realty Corp. Earnings Cheat Sheet: Exceptionally Productive Quarter
Getty Realty Corp. (NASDAQ:GTY) reported its results for the first quarter. Getty Realty Corporation is a real estate investment trust in the United States specializing in the ownership and leasing of retail motor fuel and convenience store properties and petroleum distribution terminals. HOUSE OF THE WEEK>>
Don't Miss: Wall St. Cheat Sheet's newest Feature Trades of the Month!
Getty Realty Corp Earnings Cheat Sheet for the First Quarter
Results: Funds From Operations (FFO) decreased to $13.6 million (42 cents per share) from $14 million or 56 cents per share in the year earlier quarter.
Revenue: The company's revenue was $25 million for the first quarter.
Actual vs. Wall St. Expectations: The mean estimate for GTY was 52 cents/share. Estimates ranged from 51 cents per share to 52 cents per share.
Quoting Management: David Driscoll, the Company's President and Chief Executive Officer commented, "With the acquisition of two real estate portfolios including 125 properties, an equity offering and a number of developments with our largest tenant, Getty Petroleum Marketing Inc., it was an exceptionally productive quarter for us. I expect that the full effect of this activity will be realized in the quarters to come. We also remain active on the acquisition and financing fronts and are concentrating a lot of energy and attention into our discussions with GPMI. We believe the recent change of ownership of GPMI has created a meaningful opportunity to make mutually beneficial progress reducing the size of the GPMI portfolio and thereby potentially reducing our exposure to GPMI."
Competitors to Watch: Alexander's, Inc. (NYSE:ALX), Federal Realty Inv. Trust (NYSE:FRT), American Assets Trust, Inc (NYSE:AAT), Realty Income Corp (NYSE:O), Weingarten Realty Investors (NYSE:WRI), Kite Realty Group Trust (NYSE:KRG), Agree Realty Corporation (NYSE:ADC), Acadia Realty Trust (NYSE:AKR), Voronado (NYSE:VNO), Simon Property Group (NYSE:SPG), SL Green (NYSE:SLG), Cedar Shopping Centers Inc (NYSE:CDR), and Regency Centers Corp. (NYSE:REG)
Stock Performance: Shares of GTY are unchanged from the previous close of $25.79.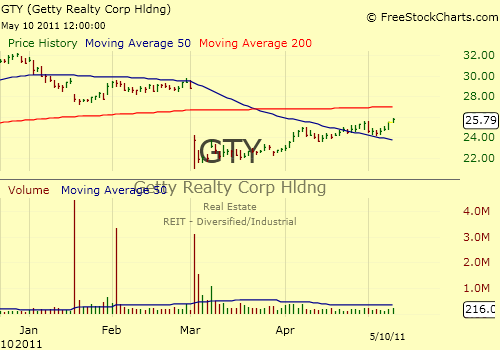 Don't Miss Wall St. Cheat Sheet's newest Feature Trades of the Month!