GlaxoSmithKline Drug Falls Short, Sarepta Shares Collapse, and 3 More Hot Stocks
GlaxoSmithKline (NYSE:GSK): GlaxoSmithKline has announced that its darapladib treatment failed to lower the risk of heart attack or stroke among chronic heart disease patients. Glaxo bought the rights for the drug in 2012 for $3 billion, although CEO Andrew Witty noted that darapladib was "high-risk, but potentially high-reward." During the trial, the drug proved no more effective than a placebo at reducing the time before a heart attack, stroke, or death in the more than 15,000 patients who had some form of coronary disease, The Wall Street Journal reports.
Sarepta Therapeutics (NASDAQ:SRPT): Sarepta shares have collapsed nearly 60 percent since the Food and Drug Administration slammed Sarepta's dystrophin for its inability to predict clinical benefit. "The disconnect between increased expression of dystrophin and clinical efficacy for drisapersen … raises considerable doubt about the biomarker," the FDA noted, adding that "the quantity of dystrophin that might be necessary to be considered reasonably likely to predict clinical benefit is even less clear," Seeking Alpha reports.
Vale S.A. (NYSE:VALE): Vale has sold off a 19.6 percent stake in the Norwegian aluminum-maker Norsk Hydro for about $1.8 billion, or around half the holding's value when the Vale bought it in 2011. Vale — like many others in the industry — has been working to shed its noncore assets and doubling down on its iron ore operations, which yield higher profits.
Vodafone Group PLC (NASDAQ:VOD): Though Vodafone's first half EBITDA dropped 4.1 percent to 6.6 billion pounds, it still beat analyst expectations that called for 6.4 billion pounds. Revenue grew to 22.03 billion pounds (up 1.2 percent), though on an organic basis, it it fell 3.2 percent. The company is planning to invest 7 billion pounds ($11.18 billion) by March 2016 as part of the "Project Spring" that will improve its network to better help consumers who want to access the Internet via smartphones and tablets.
Rackspace Hosting (NYSE:RAX): Rackspace shares are down more than 12 percent as it announced earnings per share of 11 cents, which missed by 4 cents, and revenue of $389 million, which beat by $1.5 million. Price cuts to compete more effectively dented the gross margin by 150 bps over the quarter previous, to 67.2 percent; research expenditures leapt 53 percent over last year to $23.8 million, while sales and marketing spends grew 24 percent to $50.9 million. These both surpassed the revenue growth of 16 percent.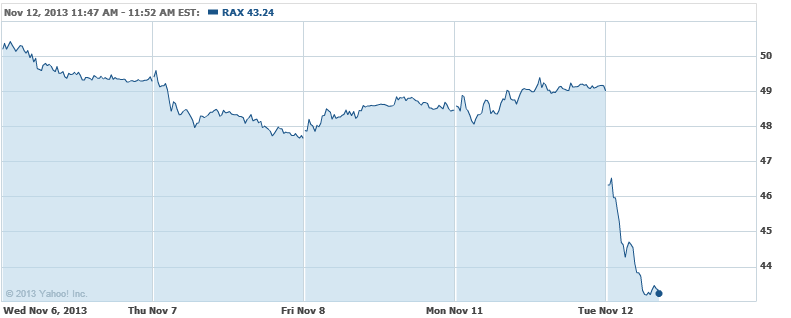 Don't Miss: Will Galena Biopharma Triple Soon?