GlaxoSmithKline Earnings: Solid, But Shareholders Taking Profits
GlaxoSmithKline PLC (NYSE:GSK) first-quarter net profit rose 14% to 1.53 billion pounds ($2.53 billion). GlaxoSmithKline plc is a research-based pharmaceutical group that develops, manufactures and markets vaccines, prescription and over-the-counter medicines, as well as health-related consumer products. The Group, which also provides laboratory testing and disease management services, specializes in treatments for respiratory, central nervous system, gastro-intestinal and genetic disorders.
Don't Miss: Wall St. Cheat Sheet's newest Feature Trades of the Month!
GlaxoSmithKline PLC Earnings Cheat Sheet for the First Quarter
Results: Glaxo posted a net profit of GBP 1.64 billion before major restructuring — up 5.1% from a net profit of GBP 1.56 billion a year earlier. The group booked restructuring charges of GBP 135 million in the first quarter.
Revenue: Sales in the period fell to GBP 6.59 billion from GBP 7.36 billion. The company was hurt by hit generic competition to herpes drug Valtrex, a continued decline in revenue from its controversial diabetes pill Avandia, and a drop in sales of flu products versus last year's windfall from a huge flu scare.
Actual vs. Wall St. Expectations: Analysts polled by FactSet Research had been expecting earnings of 31 cents a share on sales of 6.65 billion pounds.
Key Stats: Glaxo is selling its Quest Diagnostics (NYSE:DGX) stake for $1.7 billion and North American rights to cold sore treatment Zovirax to Valeant Pharmaceuticals International (NYSE:VRX) for $300 million.
Competitors to Watch: Pfizer Inc. (NYSE:PFE), Merck & Co., Inc. (NYSE:MRK), Johnson & Johnson (NYSE:JNJ), Sanofi-Aventis SA (NYSE:SAN), Abbott Laboratories (NYSE:ABT), Astra Zeneca plc (NYSE:AZN), Novartis AG (NOVN), Roche Holding Ltd. (NYSE:ROG).
Performance: GSK shares are up to 0.25%.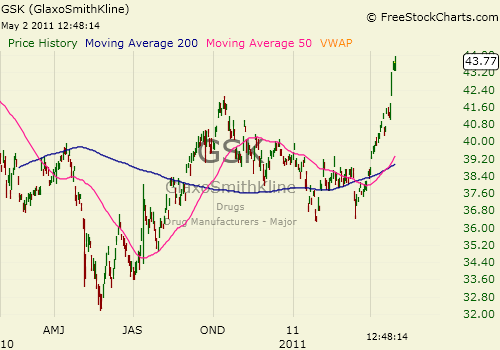 Don't Miss: Wall St. Cheat Sheet's newest Feature Trades of the Month!