Global Concern Bubbles Over Housing Markets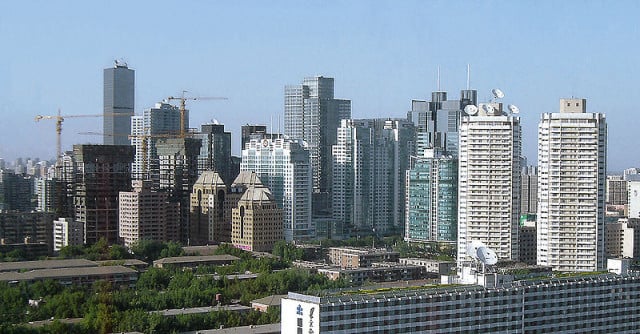 The debate over whether China's housing market is experiencing — or is on the cusp of — a housing bubble rages on. Liu Li-Gang, an economist with Australia & New Zealand Banking Group Ltd. based in Hong Kong, spoke with Bloomberg about the Chinese market. "Home prices, especially in big cities, are a bit out of control," Li-Gang said. "China's facing an increasing risk of a property bubble."
A MarketWatch analysis shows the opposite view. Since only 20 percent of the market has been sold since 2000 and purchases for investment purposes have decreased from 50 percent to 10 percent, it is unlikely China is facing a bubble.
But even if it is a bubble, MarketWatch says this will differ from the U.S. bubble that preceded the financial crisis. The publication's view is formed by looking at rates of residential mortgage debt in the two countries in 2009. For that year, U.S. residential mortgage debt was 81 percent; in China, it was 15 percent.
Bubble or no bubble, Chinese officials have previously tried to curb the market. Bloomberg reported in March that then-Premier Wen Jiabao was revving up a campaign meant to take steam away from rising prices. He specifically mandated that banks require higher downpayments for second mortgages in costly cities. His successor, Premier Li Keqiang, has not expanded on the policy.
As analysts battle it out over the state of housing in China, evaluating less-than-reliable data and the actions of officials, policymakers in other countries are concerned over the potential that their markets are exhibiting bubble-like activity, as well.
On Monday, the Bundesbank, Germany's central bank, released calculations on housing prices in the country as part of its monthly report. The bank warns of the potential for a bubble, explicitly stating, "prices in German cities have been rising so strongly since 2010 that a possible overvaluation cannot be ruled out."
There is a gap between pricing in urban and rural areas, an issue China is also dealing with. In Germany, some urban real estate prices have seen an increase of more than 25 percent, according to the Bundesbank. While some of the price hikes may be due to demographic and economic factors, the increase may be 10 percent higher than what those factors alone could explain. The findings are the result of a study by the Bundesbank in the report; it lists the cities of Berlin, Hamburg, Munich, Cologne, Frankfurt, Stuttgart, and Düsseldorf as potentially overvalued markets.
The Bundesbank does not see this trend ending soon. Demand remains high, especially for apartments in cities. Adding to the limited supply are investors who fled the U.S. housing market after its bubble burst. Investing in housing in Germany increased, according to the report, because "belief that the value of one's assets can be best secured through property ownership."
Germany isn't alone in its fears of rising housing prices: There are worries that America is once again too close to bubble-like conditions for comfort.
Richard Fisher, president of the Dallas Fed, told reporters after a speech on Thursday in New York that he was "beginning to see signs not just in my district but across the country that we are entering, once again, a housing bubble," Reuters reports. Fisher's concern is based on rising home prices and the Fed's continued policy of buying mortgage backed securities. It's cause for caution, Fisher said, and ever since the Great Depression, "there has historically been an era of the Fed overstimulating."
The National Association of Realtors's September news release on existing-home sales found that the median price for homes this September were up 11.7 percent from September 2012. This made September the 10th month in a row in which there was a double-digit increase in the median price compared to the previous year. Overall sales in September were down, and the market has a five-month supply of homes. Even as sales decline the price is high, because, like in Germany and China, there has been sustained demand.
Don't Miss: Are American Consumers Shaking Off Economic Concerns?