GM Brings in New Opel Lead and 3 Morning Hot Stocks Trading Today
KKR & Co (NYSE:KKR): Current Price $17.05
A consortium that includes private equity firms KKR & Co (NYSE:KKR) and Apex Partners LLP along with Gavea Investimentos Ltda, owned by JPMorgan Chase & Co. (NYSE:JPM), and Cambuhy Investimentos Ltda is likely to bid almost €5 billion, or $6.8 billion, for Vivendi SA's GVT phone unit in Brazil, says Bloomberg. That would compete with US satellite television provider DirecTV (NASDAQ:DTV), who is keen to acquire the GVT unit because of the synergies that deal could provide along with the opportunity to tap into a fast growing pay-TV and Internet service market in Latin America. Direct TV may perhaps offer a bid closer to Vivendi's expectations, though DirecTV Chief Executive Officer Mike White says, "I see it as a nice-to-have, not a must-have."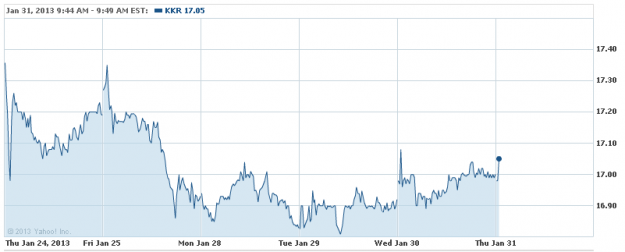 GM (NYSE:GM): Current Price $27.93
GM's (NYSE:GM) Opel operations in Europe have been the nemesis of a series of chief executives that have failed to turn around the consistently loss-making business. With cumulative losses now in the $15 billion range, GM is bringing in Karl-Thomas Neumann, formerly of Volkswagen AG, as Opel Chief Executive with effect from March 1. He has his work cut out for him, with the immediate aim being to restore GM's European operations to break-even by the middle of the decade. That's a tough call, considering European car sales have declined for the sixth straight year and show no signs of bottoming out. Neumann must also contend with Opel's excess capacity in Western Europe as well as its somewhat tarnished image.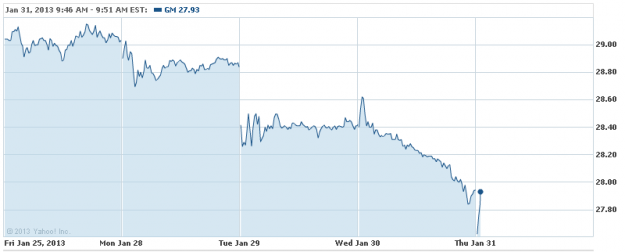 Are these stocks a buy or sell? Let us help you decide. Check out our Stock Picker Newsletter now.
Time Warner Inc (NYSE:TWX): Current Price $50.26
In a move that could be part of its extensive restructuring, Time Warner Inc (NYSE:TWX) is weighing the sale of its 1.1 million sq -foot New York headquarters building, says Reuters. According to sources real estate brokers have been asked to provide a valuation of the building, but analysts say that the property could go for as much as $1,000 a square foot, leading to a pricetag in excess of $1 billion. However, sources say the company could consider other options too such as a sale and lease back, transferring other New York located offices to this building, or vacating it completely. Time Warner recently started the overhaul of its CNN news channel while its Time magazine unit proposed cutting 500 jobs.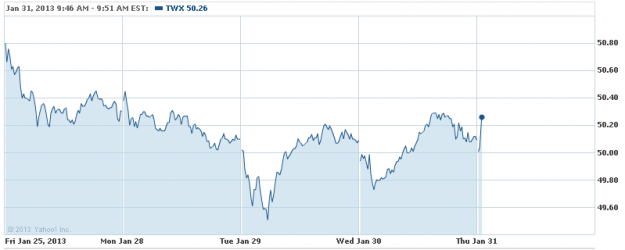 Anheuser-Busch InBev's (NYSE:BUD): Current Price $94.11
The New York Post reports that regulators have reverted to the people objecting to Anheuser-Busch InBev's (NYSE:BUD) $19 billion acquisition of Mexican brewer Grupo Modelo and asked them to make their closing arguments. That's being interpreted as a sign that regulators still had reservations about the deal, and may end up requiring Anheuser-Busch InBev to severe links with some of its wholly owned beer distributors in the US.

Don't Miss: Has Boeing Beat the Bears?