GM Expands Its Online Shopping to U.S. Dealers and 2 More Heavily Traded Stocks to Follow
Genera Motors Co. (NYSE:GM): Current price $36.60
General Motors' online shopping service for its cars and trucks will be expanded to dealers spanning the United States, said the automaker on Wednesday. Its 4,300 Chevrolet, Buick, GMC, and Cadillac dealers may now offer the service "Shop-Click-Drive" to prospective customers. The service permits shoppers to select a vehicle, get an estimated price, explore available incentives, choose financing and insurance products, obtain information concerning a trade-in, and also apply for financing online.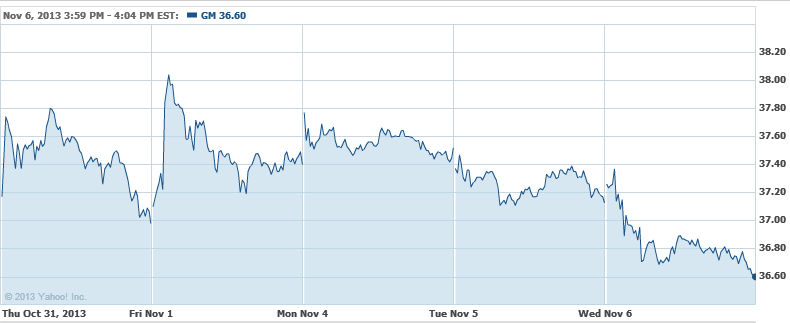 Abercrombie & Fitch Co. (NYSE:ANF): Current price $33.15
Subsequent to soft preliminary sales results and a lower-than-expected gross margin forecast, Abercrombie now anticipates adjusted earnings at the higher end of its guidance of between 40 and 45 cents per share. Adjusted earnings for the third quarter will not count pre-tax charges of close to $90 to $100 million connected with the restructuring at the Gilly Hicks brand, non-cash impairment charges linked with other stores and costs associated with the firm's profit enhancement initiatives. The company will release its third-quarter earnings numbers on November 21.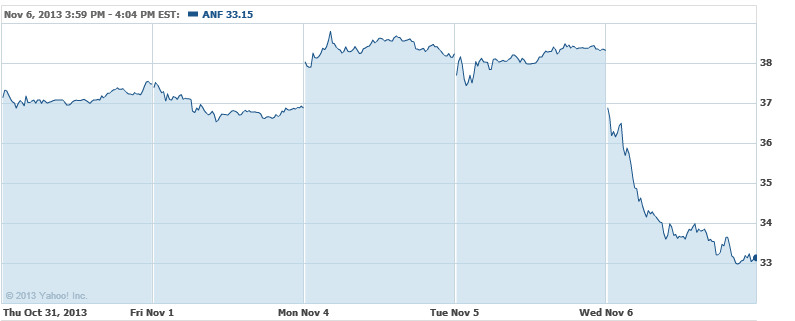 Tesla Motors Inc. (NASDAQ:TSLA): Current price $150.78
Tesla shares are down by about 14.75 percent late on Wednesday, despite some analysts saying that Tuesday's after-hours sinking following the third-quarter earnings results was an overreaction. The rapid plunge shortly after Wednesday's open at NASDAQ trading triggered the exchange's short-sale circuit breaker, a relative rare event. Tesla shares opened trading at $155, near the point at which they had been in after-hours and pre-market trading. Prior to the after-market earnings report, the stock had closed on Tuesday at $176.81.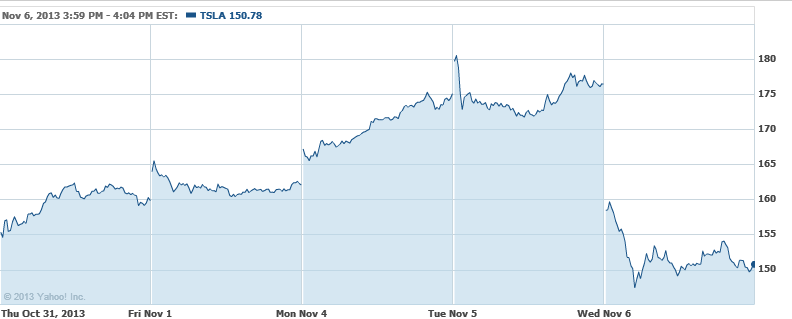 Don't Miss: 8 Awesome Cars & Trucks on Display at SEMA 2013.