GM Goes Greener: 8 Vehicles with 40 MPG by 2017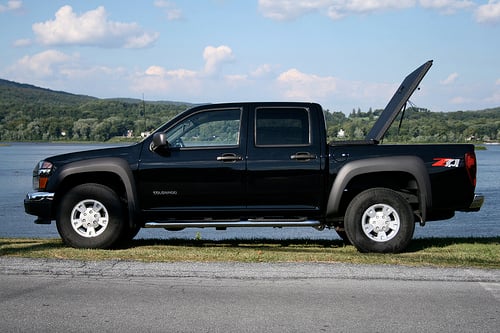 General Motors Co. (NYSE:GM) has effectively proven its commitment to improved fuel economy and reduced emissions, evidenced by its latest sustainability report. Erecting lofty goals and vowing to cut energy use, it is evident that the U.S. automaker is serious about its responsibility to the environment.
According to The Detroit News, GM first started publishing sustainability reports in January 2012, when it pledged to reduce waste, energy, carbon, and water use at manufacturing sites and increase the number of landfill-free facilities by 2020. The car manufacturer has shown promising progress, boosting its use of solar, landfill gas, and biomass energy, and posting gains in seven other areas.
GM is ready to keep moving in the right direction. The company released its latest sustainability report Thursday, which detailed the company's goals to manufacture eight U.S. vehicles achieving 40 miles per gallon on the highway by 2017, cut CO2 emissions by 15 percent from those produced in 2011 vehicles by 2016, and follow the same pattern in Europe, cutting Opel-Vauxhall carbon dioxide emissions 27 percent by 2020.
Though the automaker is committed to its environmental pledge, the reduction in emissions also serves its own purpose. Its recycling and reuse of 90 percent of its manufacturing waste adds about $1 billion to its annual revenue. In addition, as the popularity of electric car grows, its goal to put 500,000 electricity-powered vehicles on the road by 2017 will undoubtedly reel in additional sales. GM had 179,801 vehicles with electrification on the road in 2012, up from 48,108 in 2011.
The U.S. automaker's sustainability report also said it has cut energy use by 7 percent and CO2 emissions by 5.3 percent since 2010. It now has 105 landfill-free facilities and it has reduced waste by 8 percent since 2010.
GM isn't doing all the work on its own. A report last month illustrated that the carmaker is part of a U.S. Department of Energy program called the Better Buildings, Better Plants program, an initiative with a goal for GM to reduce energy costs at 25 of its U.S. facilities. This could lead to a 25 percent or greater combined reduction in energy use by 2018. GM also signed a climate declaration this year with business advocacy organization Ceres to encourage lawmakers to address climate change by reducing carbon emissions and employing more clean energy.
The automaker hopes that other car manufacturers will follow suit in its environmental directives. GM's next report will come out in the second quarter of 2014.
Here's how shares of General Motors have traded in 2013: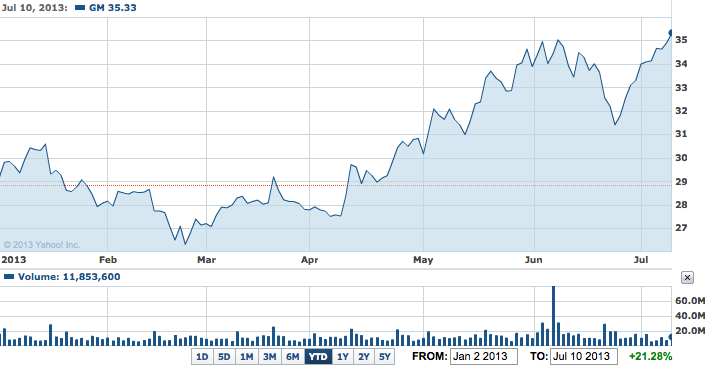 Don't Miss: Here's Why 2013 Is a Good Time to Be an American Automaker.