GM Holds Lead Over VW, Schlumberger's Strong Quarter, and 3 More Hot Stocks
General Motors (NYSE:GM): General Motors's global sales have risen 4.6 percent, holding the company's lead over its biggest competitor in China, Germany's Volkswagen AG.  General Motors's nine-month worldwide sales grew to 7.25 million units; between VW and Toyota, it's a three-way race for global supremacy, and the gaps are narrowing, especially in China, Bloomberg reports. Third-quarter sales alone rose 5.5 percent to almost 2.4 million, with the biggest increases in GM's North America and the International Operations unit.
Schlumberger Ltd. (NYSE:SLB): Schlumberger shares are rising as the company reported earnings per share of $1.29, beating by 5 cents; revenues of $11.61 million also exceeded expectations, by $0.03 billion. Earnings soared 20 percent year-over-year due to strong oilfield services revenue in the Middle East and Asia region, particularly in Saudi Arabia and Iraq. Additionally, a lower-than-expected 22.7 percent tax rate added 2 cents to the 5 cent beat.

United Continental Holdings (NYSE:UAL): United Continental has applied for the route rights to Tokyo's Haneda Airport from San Francisco, just one day after American Airlines announced that it will be canceling its service between New York and Haneda. Seeking Alpha notes that the slots at Haneda are highly coveted due to its proximity to Tokyo, making it more attractive to travelers than flying into the Narita International Airport.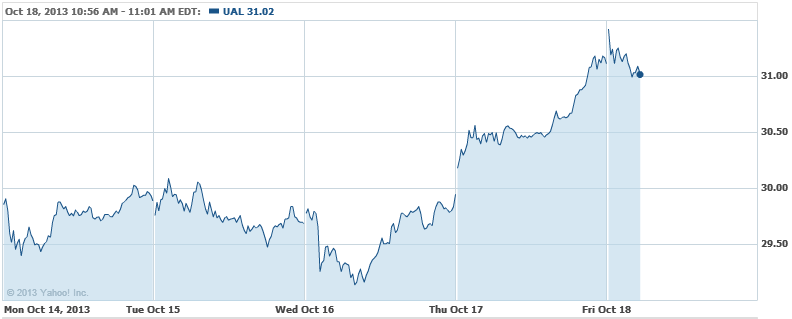 Honeywell Inc. (NYSE:HON): Honeywell has reported EPS of $1.24, falling in-line with projections, as revenue of $9.65 billion missed, by $0.27 billion. "Despite lower than expected sales in the quarter … strong execution across the portfolio helped drive earnings at the high-end of our guidance range," Honeywell CEO Dave Cote said. Aerospace sales fell 2 percent, Automation and Control Solutions sales saw 4 percent gains, Materials and Tech sales slid 1 percent organically, and Transportation Systems sales rose 6 percent.

Morgan Stanley (NYSE:MS): Morgan Stanley reported a strong quarter, with EPS of 50 cents beating by 9 cents, and revenues of $8.1 billion beating by $0.34 billion. Fixed income and commodities took a hit due to "lower client activity and market volumes across all products," while equity sales and trading revenues grew 30 percent and underwriting revenues for equities and fixed income picked up 18 percent and 11.6 percent, respectively.
Don't Miss: GM Shows Q3 Growth Despite September Slip.