GM Is Bringing the Electric Fight to Tesla's Home Turf

It was only a matter of time before Tesla Motors's (NASDAQ:TSLA) presence in the auto industry drew the attention of incumbent leaders. And while many expected the electric vehicle maker to go the way of Tucker or DeLorean, Tesla has surprised its critics and held fast — leaving the rest of the industry scrambling to figure out how to address the disruptive contender.
If any firm is geared for taking on the EV market champion, it's one of the largest automakers in the world: General Motors (NYSE:GM). Its CEO, Dan Akerson, said that the Cadillac brand will be meeting Tesla's market threat — on its own turf, too.
Akerson told The Detroit News that GM plans "to compete head-to-head" with Tesla, and that GM has gone as far as to set up a small team to study the EV maker. He added that Tesla has established itself as a high-end electric brand, but GM will "sell more [Chevrolet] Volts and lose less money on the Volts than they'll lose on the Model S."
If you're thinking that those two vehicles are hardly comparable, you'd be right. With its recent $5,000 price cut, the Volt will run about $34,995 including shipping but before federal tax credits, while Tesla's Model S carries a base price of $71,070 including shipping and before incentives. Further, the Volt is an extended range plug-in hybrid, not a true EV, as the Model S is.
Next year's introduction of the Cadillac ELR should help bridge that gap. With the Cadillac, GM will be taking the Volt powertrain and elevating it to more luxury levels, more so than the utilitarian Volt. That solves at least one of the issues regarding brand image, but the ELR will still run on gasoline, at least part of the time.
As it turns out, Akerson has some reservations about going full electric.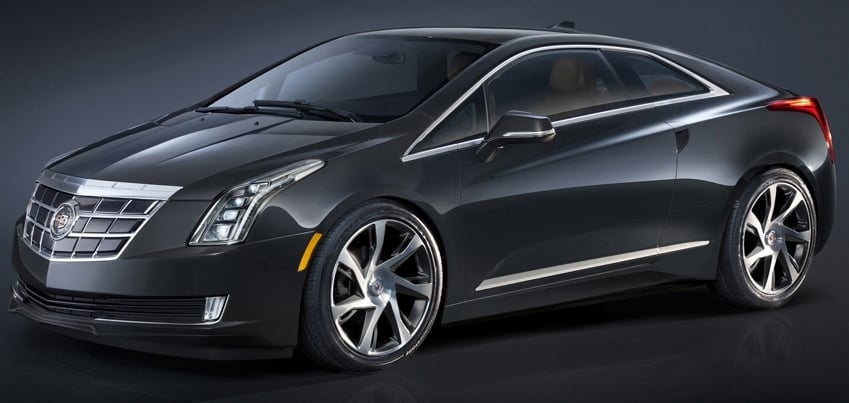 "Akerson said he remains unconvinced that pure electric vehicles are the 'panacea' that the American public wants, but understands that the future can change," Automotive News reports. "He cited Fisker Automotive, a struggling green-car startup, in contrast to Tesla's accomplishments: 'Does anybody even remember Fisker? I mean, there were a number of them; they are all gone,' he said in the interview of such startups."
Regardless, GM is in fact working on a purely electric vehicle. The Chevrolet Spark EV is already seeing action in select regions, and just last week, Doug Parks, GM's vice president for global product programs, said that the automaker is working on a $30,000 electric car with a 200-mile range.
However, rather than scoffing at GM's ambitions, Tesla CEO Elon Musk was warm and receptive to the news.
Am happy to hear that GM plans to develop an affordable 200 mile range electric car. Right target. Hope others do same.

— Elon Musk (@elonmusk) September 19, 2013
It's not like GM is jumping with two feet into a market that it has no experience in. As the documentary Who Killed the Electric Car? details, GM built what appeared to be an entirely feasible electric car, the EV1, back in the 1990s. Then, with little to no warning, the program was shuttered, and most of the existing EV1s on the road were crushed.
However, it seems as though Cadillac will be using its ELR as a jumping point. "I do think when the [Cadillac] ELR comes out late this year, early next — it's certainly in the same postal code as Tesla, but now we're going to move up," Akerson told The Detroit News. "It's not going to be a mass-produced car."
Don't Miss: 10 of the Most Fuel-Frugal Coupes for 2013