GM Issues Another Recall, Discovery Finds Success Abroad, and 3 More Hot Stocks
General Motors (NYSE:GM): Although sales this year have been strong for the automaker, this year has been particularly harsh for recalls as well. GM has just announced yet another, which is applicable to over 38,000 vehicles spanning across the Chevrolet Malibu Eco, Buick LaCrosse, and Buick Regal sedans, for an issue stemming from the eAssist hybrid power train. A malfunctioning generator control module was pointed to for the cause, which can result in gradual loss of battery charge and activation of a malfunction warning light. If the driver ignores the warning the engine may eventually stall. The condition could also result in a burning or melting smell, and in rare cases, fires in the car's trunk.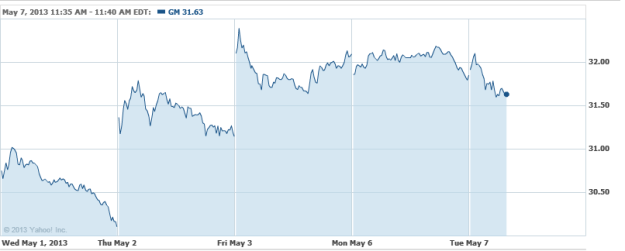 Discovery Communications (NASDAQ:DISCA): Earnings of $0.63 missed narrowly by $0.03, though revenue fell in-line at $1.15 billion, an overall growth of 7 percent. Domestic revenues grew on 1 percent, although internationally the revenue channel grew by a healthy 17 percent. Ad revenue grew on higher pricing and better delivery, and the company's guidance falls at $5.57 billion – $5.7 billion, above the consensus estimate of $5.5 billion.

Charter Communications (NASDAQ:CHTR): Earnings of -$0.42 per share were enough to beat by $0.02, and revenues of $1.91 billion just surpassed projections by $0.01 billion. Residential customers grew by 56,000 during the quarter, while Internet customers swelled by 99,000. Commercial revenues were also up over 19 percent.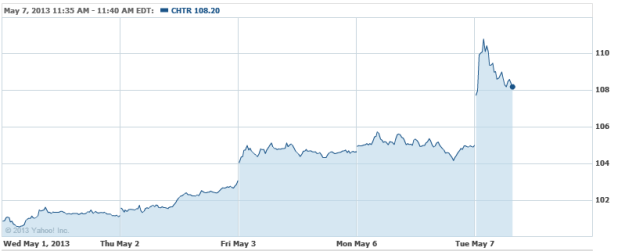 HSBC Holdings Plc. (NYSE:HBC): Substantial efforts to cut costs at the bank seem to be paying off, given its quarterly revenue of $8.43 billion beat by $330 million. Pretax profits surged 34 percent year-over-year, for a quarterly figure of $7.6 billion. Core tier 1 capital also rose over 12 percent. "We've had a good start to the year, with growth in reported and underlying profit before tax. These results demonstrate our progress in implementing the strategy we set out in May 2011," CEO Stuart Gulliver said. The performance has raised speculations about the bank raising its cost-cutting targets.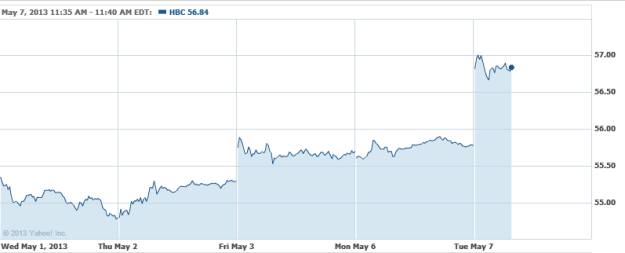 OfficeMax (NYSE:OMX): "Weak macroeconomic conditions and continued industry declines in technology sales" were cited by CEO Ravi Saligram as reasons for the company's revenue and earnings misses for the first quarter. EPS of $0.11 missed by $0.12, and revenue of $1.76 billion missed by $0.08 billion. Cost cutting measures in the second half of the year should help improve profitability, though same store sales fell over 5 percent during the first quarter.

Don't Miss: Have Ford and GM Killed the Japanese Midsize Car?