GM: It's Time to Pay Attention to Tesla Threat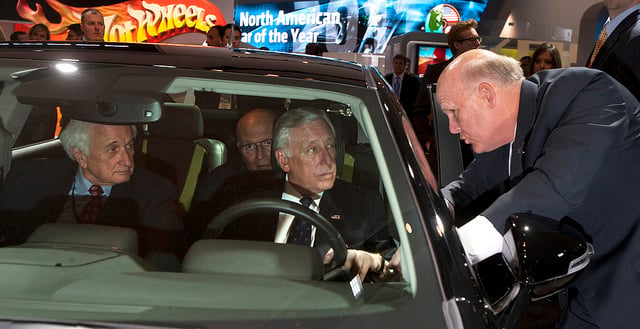 Once upon a time, hybrid and electric vehicles were a laughingstock. They looked like toy boxes, took half the day to charge, and could barely run 35 miles on full battery power. Then Tesla (NASDAQ:TSLA) came along and, buoyed by federal tax credits and government loans, shattered the poor image of EVs forever. Now the biggest of the Detroit Three says it time to take notice.
Dan Akerson, chief executive of General Motors (NYSE:GM), has formed a task force to study Tesla and report back on the potential for the California EV maker to disrupt GM's business, according to Bloomberg. It represents the shift in company culture Akerson has wanted to implement since taking the reins at GM in 2010. Steve Girsky, GM's vice chairman, explained Akerson's approach.

"He thinks Tesla could be a big disrupter if we're not careful," Girsky said in reference to GM's chief. "History is littered with big companies that ignored innovation…" Since the Chevy Volt (priced around $40,000) is being steadily outsold by the Tesla Model S (priced around $70,000), there's clearly something to be learned from the EV industry rock star and its CEO, Elon Musk.
Style Matters
Perhaps the first lesson for Akerson's team to absorb is how important style is to drivers. GM has had its share of gorgeous cars in more than a century of designing and manufacturing automobiles. Behind the wheel of a Tesla, drivers feel the luxury factor while scoring style points at every turn. The same cannot be said for a Chevy Volt, though Cadillac's ELR is a step in the right direction.
Performance Is Everything 
Performance tops the list of every hybrid and electric vehicle owner. If the car cannot perform like a gas-powered car, why bother? Tesla answered this question in impressive fashion, designing a car that can drive over 250 miles on a battery charge. When a driver runs out of juice, there are supercharging stations available where 30 minutes can equate to a full refueling, free of charge with an 80 kWh battery. GM's Volt can't quite make it to 40 miles on a charge before switching over to its gas engine.
Undercutting the Upstart
One of GM's ways to confront Tesla is to introduce a Volt priced near $30,000 in the coming years. Bloomberg reports that Akerson has commissioned engineers to get the Volt price down, but it may not be released until Tesla has its own sub-$40K car, expected within three years.
Once an Innovator
In 2003, GM ended its early electric vehicle experiment, bringing in all EV1s it had leased and sending them off to the crusher.
With that move, General Motors took itself out of the electric vehicle game. Ironically, the EV1 performed far better than its current hybrids, traveling over 70 miles on a charge. It's taken a decade to get the company's focus back, and it has Tesla to thank for it.
Dan Akerson doesn't want to stand pat while another company runs circles around GM, in electric vehicles or not. The industry is waiting for the next EV move from the Detroit Three.