GM Might Move Mokka Production From Korea To Spain and 2 More Heavily Traded Stock To Follow
General Motors Company (NYSE:GM): Current price $34.74
The historic automaker is thinking of moving a large portion of the output of the Mokka model for its European division Opel, from South Korea to Spain, according to inside sources to Handelsblatt. Over 100,000 Mokkas have been ordered since the market intro some six months ago, and demand has been much higher than was expected, which caused production bottlenecks and long waiting lists for the subcompact SUV. Making the Mokka in General Motors' Opel facility in Zaragoza would help to fill its excess capacity and reduce losses of the division. On Monday, an Opel spokesman said that GM is searching out additional capacity to make subcompact SUVs but would not comment specifically on any plans to move output of the Mokka to the factory in Spain.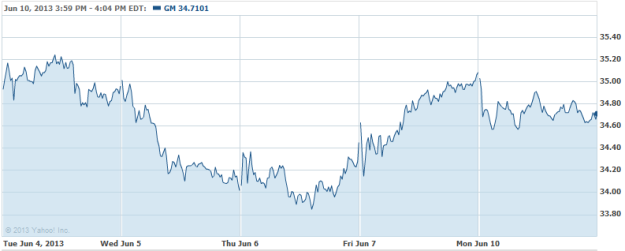 American Capital Agency Corp. (NASDAQ:AGNC): Current price $24.82
Juan E. Monteverde, a partner at the national securities firm headquartered in New York City, Faruqi & Faruqi, is investigating the board of American Capital for potential breaches of fiduciary duties linked with their conduct in seeking shareholders' approval for the amendment of the firm's certificate of incorporation. Specifically, in the additional proxy soliciting materials filed by American Capital with the Securities and Exchange Commission on May 31st, the board recommends that shareholders vote to okay an amendment to the  certificate of incorporation through which to increase the number of authorized shares of preferred stock from 10 to 20 million shares. The issuance of the additional shares might pose a substantial dilutive effect on the shares of American Capital common stock.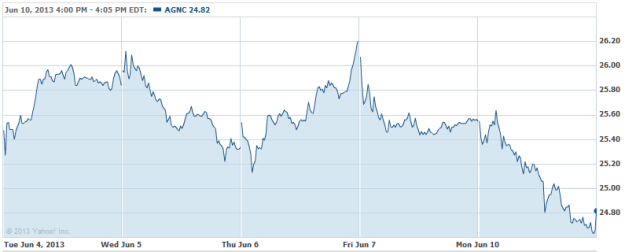 Freeport McMoRan Copper and Gold (NYSE:FCX): Current price $30.88
Subsequent to an accident in May that killed 28 workers, Indonesia's sole copper smelter, PT Smelting, has taken only one shipment from Freeport Indonesia, according to the firm's chief executive on Monday, and is in discussions with other suppliers to avert an enforced closure of its own. Freeport McMoRan Copper and Gold operates the world's number-two copper mine in Papua, and it suspended operations on May 15th, one day after a training tunnel away from the mining operations caved in on 38 workers. Typically, Freeport's Grasberg mine in west Papua supplies 80 percent of the Indonesian smelter's copper concentrate, with Newmont Mining Corp responsible for the remaining, said President Director at PT Smelting Makoto Miki, to Reuters.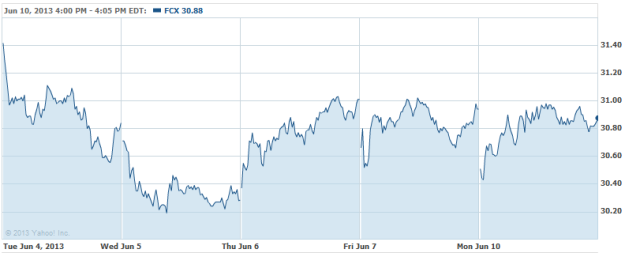 Don't Miss: Is the 2014 Corolla 'Stunning, Next Generation' Material?