GM Sales in China Roll On, Chevron's Big Ukraine Deal, and 3 More Hot Stocks
General Motors Co. (NYSE:GM): General Motors reported that its local division in China saw a 12.2 percent year-over-year improvement to 282,446 units in October, continuing the double-digit trend of growth seen throughout the year. For the year to date, General Motors and its China joint ventures have sold 2.595 million vehicles, up 11.2 percent from the year previous; GM China President Bob Socia said that the company's China sales were likely to grow this year by 300,000 to 3 million vehicles, Reuters reports.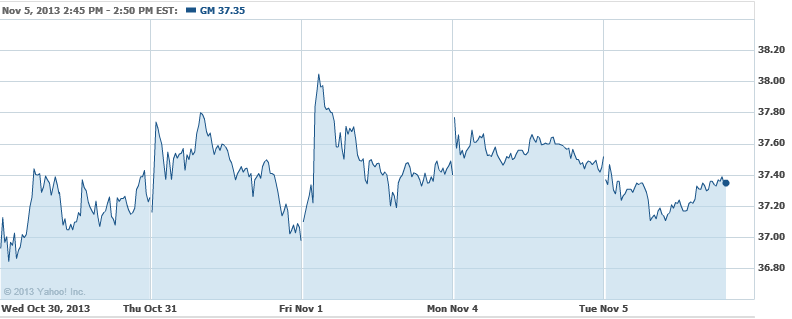 Chevron Corp. (NYSE:CVX): Chevron has signed on to a $10 billion shale gas production-sharing agreement with Ukraine, making for the country's second such agreement this year. Under the terms, Chevron will put forth an initial investment of $350 million in exploratory work, aimed at establishing the commercial viability of the shale reserves found at the 5,260-square-kilometer Olesska field.

ImmunoGen Inc. (NASDAQ:IMGN): ImmunoGen shares are caving over 20 percent as the company reports that it has halted a Phase II trial of its IMGN901 drug in patients with small-cell lung cancer due to too many infections and infection-related deaths. Further, the Data Monitoring Committee overseeing the study concluded that the use of IMGN901 was "unlikely to demonstrateza sufficient improvement in progression-free survival," though on a more positive note, ImmunoGen has launched a Phase I testing of IMGN289, a potential treatment for lung, head, and neck tumors.

Michael Kors Holdings (NYSE:KORS): Shares of Michael Kors are up as the company reports a solid quarter that saw earnings per share of 71 cents beat by 2 cents and $740.3 million in revenues beat by $18.1 million. Comparable-store sales saw a 23 percent gain in the third quarter as demand stayed strong even though it tapered slightly from last quarter. Sales in North America rose 31 percent as European sales doubled over the year-ago period.

Morgan Stanley (NYSE:MS): In its latest 10-Q submission, Morgan Stanley notes that AIG (NYSE:AIG) could potentially sue over mortgage-backed securities deals that the two firms worked on prior to the financial crisis; AIG has ended a tolling agreement between it and Morgan Stanley, effective on Thursday. From 2005 to 2007, Morgan Stanley sponsored or underwrote some $3.7 billion in mortgage pass-throughs purchased by AIG, Seeking Alpha reports.

Don't Miss: Mrs. Bezos: Amazon Book Is a 'Lopsided and Misleading Portrait'.