GM Sales Pop and 4 Hot Stocks Demanding Attention
Ford Motor Co (NYSE:F): Current Price $13.04
Ford Motor Co (NYSE:F) reports bumper sales in January, up 22%, with gains across all categories. Cars rose 34%, utilities were up 23% and trucks +11%. The Fusion (+65%) and Escape (+16%) models set new records for January sales. Sales of the Explorer model were up 46% and its best January sales since 2005. The Ford F series pickup improved sales by 22%, which is a strong performance this early in the year. "Our investment in fuel-efficient new vehicles including EcoBoost engines and hybrid technology continues to pay off," said Ken Czubay, Ford vice president, U.S. Marketing, Sales and Service.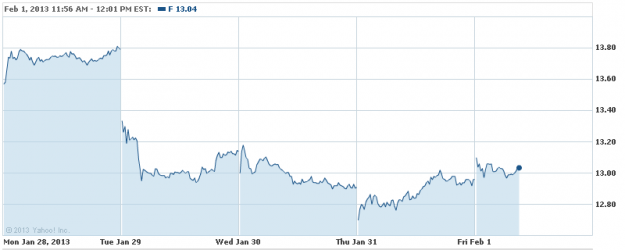 Barclays (NYSE:BCS): Current Price $18.93
Barclays (NYSE:BCS) is under investigation by UK regulatory authorities because it allegedly gave loans to a sovereign Qatar investment fund and an investment vehicle belonging to the Qatari Prime Minister to buy shares in the beleaguered bank at the height of the financial crisis in 2008. The move helped the bank avoid the clutches of a government bailout, but may have run foul of market regulations unless it was suitably disclosed at that time.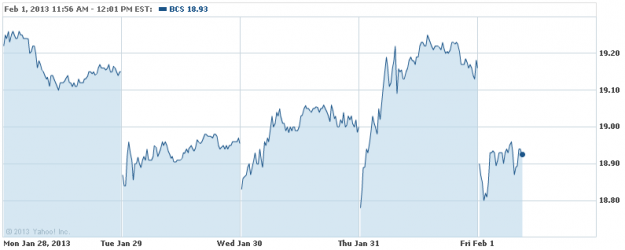 Are these stocks a buy or sell? Let us help you decide. Check out our Stock Picker Newsletter now.
Motorola Solutions Inc (NYSE:MSI): Current Price $58.95
Greg Brown, Chairman and CEO of Motorola Solutions Inc (NYSE:MSI), has been appointed to Cisco's (NASDAQ:CSCO) Board of Directors with effect from January 31, 2013. Brown also serves as the deputy chair of the Federal Reserve Bank of Chicago, and with his appointment, the size of Cisco's board becomes 14.

General Motors (NYSE:GM): Current Price $28.44
General Motors' (NYSE:GM) sales during January were up 16% over the same period last year. The company sold 194,699 vehicles in the United States during the month with Cadillac sales growing 47% to its highest January retail sales in 23 years. Buick (+32%), GMC (+23%) and Chevrolet (+11%) also sold well. Segment wise, car sales were up 12%, truck sales up 13% and crossovers rose 27%. "There's a sense of optimism among our dealers that only comes when you pair a growing economy with great new products. We started to see the benefits in 2012 with vehicles like the Chevrolet Sonic, Cadillac ATS and Buick Verano," said Kurt McNeil, Vice President of U.S. Sales Operations.

Rite Aid Corporation (NYSE:RAD): Current Price $1.70
Rite Aid Corporation (NYSE:RAD) announced debt refinancing transactions involving its revolving credit facility, a 2014 term loan and senior secured notes as well as senior debentures, that would ultimately extend the maturity of the aggregate refinanced debt as well as lower interest expense.

Investing Insights: Is Dow Chemical Likely to Outperform?