GM Sees Sales Soar in China and 2 More Heavily Traded Stocks to Follow
General Motors Co. (NYSE:GM): Current price $34.83
General Motors on Thursday announced that its sales in China soared by 15 percent in September, to 277,647 vehicles, alongside an 11 percent rise in August, while demand for luxury brands buoyed Cadillac sales. Beyond that, Cadillac sales jumped by 74 percent, to 4,496 cars, including its XTS sedan and SRX midsize crossover SUV. Sales of autos from General Motors's joint venture with SAIC Motor and Liuzhou Wuling Motors also moved up, including a 9.6 percent bump in less expensive Baojun, which sold 10,028 cars. GM plans to launch 17 new models in China this year and will shell out $11 billion on new factories and model rollouts by 2016.

JPMorgan Chase & Co. (NYSE:JPM): Current price $52.26
A number of faculty members at the University of Delaware's business college are dubious about a proposed Ph.D. program in financial services analytics, which would be funded by a $16.5 million pledge from JPMorgan. Through the plan, the Wall Street bank might be offered a seat on dissertation committees, and it also would advise on faculty for the program, said Dean Bruce Weber, of the university's Alfred Lerner College of Business & Economics. It is not unusual for companies and business leaders to be donors to universities, but the question is whether JPMorgan would have too much influence over curricula and research. However, Weber observed that the school trains future financial leaders, and the bank would give them relevant expertise and a pipeline for employment.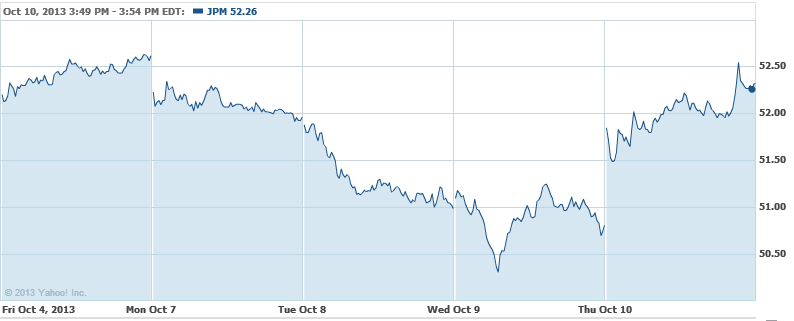 CEMEX S.A.B. de C.V. (NYSE:CX): Current price $10.89
CEMEX announced Thursday that holders of around $470 million of the outstanding 9.5 percent Senior Secured Notes due 2016 issued by CEMEX Finance tendered their 2016 Notes at or before the early tender deadline of 5 p.m. EDT on Tuesday pursuant to CEMEX's previously announced cash tender offer to buy any and all of the outstanding 2016 notes. The cash tender offer is being made through an offer to purchase and a related letter of transmittal, both of which are dated September 25, relating to the 2016 notes.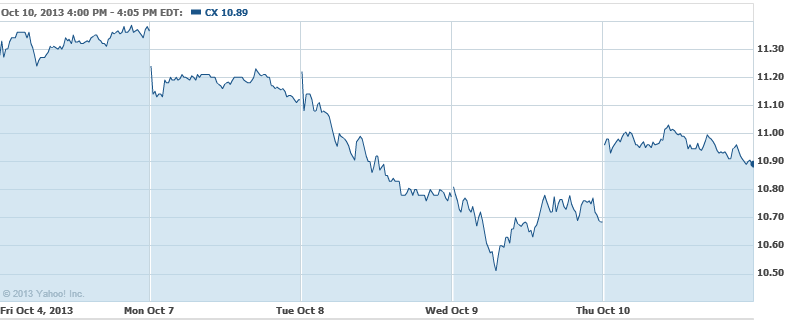 Don't Miss: 7 Cars That Rocked the New Frontal Collision Test.