GM to Expand Powertrain HQ and 4 Auto Stocks Making Headlines Now
Ford Motor Co. (NYSE:F): Current Price: $12.89
Ford expects to spend $5 billion during the year shoring up its pension funds. The company is one of a who's who of U.S. companies that has been pouring cash into pension plans which are now being battered by record low interest rates.

General Motors Company (NYSE:GM): Current Price: $28.00
The company has announced that it will expand its Global Powertrain Engineering Headquarters located in Pontiac, MI at a cost totaling about $200 million. This expansion will serve as a means to consolidate operations and streamline the development of next-generation powertrains for electric, fuel cell, and hybrid vehicles. The facility is 450,000 square feet and it is already one of the biggest of its kind in the world. Now, GM plans to add 138,000 sq-ft to combine the resources at four engineering and R&D facilities, which are currently spread out across the country, into the single location.
Are these stocks a buy or sell? Let us help you decide. Check out our Stock Picker Newsletter now.

Toyota Motor Corporation (NYSE:TM): Current Price: $97.75
The company has stated that the world-premiere concept unveiling of a two-seat urban electric vehicle named the i-Road will take place at the Geneva Motor Show next month.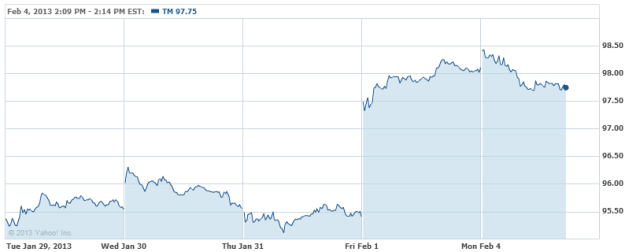 Honda Motor Co., Ltd. (NYSE:HMC): Current Price: $37.94
It is possible that the Honda Fit EV might not work well with Ecotality's Blink charging stations. Plug In Cars writer Colby Trudeau has stated that his place of work possesses seven Blink charging stations and that six of the 30-amp stations began to overheat after almost 20 minutes recharging his electric Fit.

Tesla Motors, Inc. (NASDAQ:TSLA): Current Price: $37.72
Last night, users of the Tesla forums noticed that the official Tesla Model S iPhone app is not included on the App Store, at least in the US. The app is to allow Tesla Model S owners to check, stop, and start charging progress in real time, turn on heating and cooling, locate the vehicle, lock and unlock the car plus more.

Don't Miss: Will January Auto Sales Set the Pace for 2013?