GM to Move International Headquarters, Canadian Solar's Big Quarter, and 3 More Hot Stocks
General Motors Co. (NYSE:GM): The U.S. Treasury disclosed that it sold $1.2 billion worth of General Motors stock in October, about a third of what the government indicated that it owned in the company as of September 26. Separately, General Motors has revealed that it will be relocating its international headquarters from Shanghai to Singapore to further help its management strategy. GM — which peeled GM China off its international operations this year –  will keep corporate offices and employees in China to run the division.

Canadian Solar Inc. (NASDAQ:CSIQ): Shares are up more than 8 percent as Canadian Solar reports earnings per share of 56 cents, missing by 4 cents, though revenue of $490.9 million beat, by $10.8 million. Module shipments reached 478MW, up from the second quarter's 455MW; a gross margin of 20.8 percent beat the previously elevated guidance range of 18-20 percent, and Canadian Solar now expects module shipments of 480MW-500MW for the fourth quarter, with the U.S., Chinese, an Japanese markets all expected to be strong.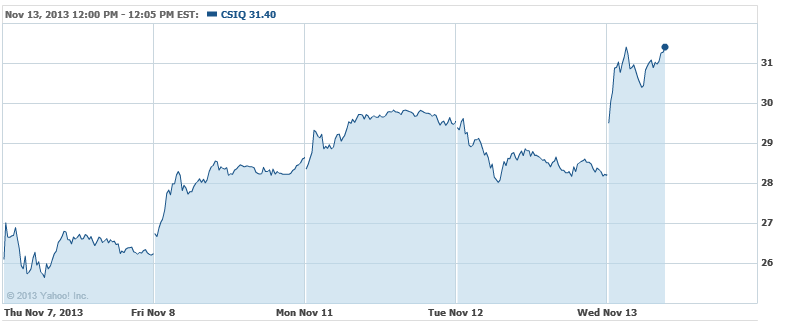 Chevron Corp. (NYSE:CVX): An Ecuadorian court has affirmed and cut Chevron's settlement related to rainforest damage from $19 billion to $9.5 billion, which naturally spurred anger from the oil giant. "[It] is as illegitimate and unenforceable today as it was when it was issued two years ago," Chevron said. Chevron is also suing the plaintiff's lawyer in New York over allegations that he used fraudulent means to influence the judgment. The litigation has been ongoing for about two decades.

Office Depot Inc. (NYSE:ODP): Office Depot has chosen Roland Smith to be its CEO; he formerly headed up the U.S. unit of the Delhaize Group supermarket chain. Smith's background is in corporate turnarounds, and he will be charged with leading the new, combined Office Depot and OfficeMax.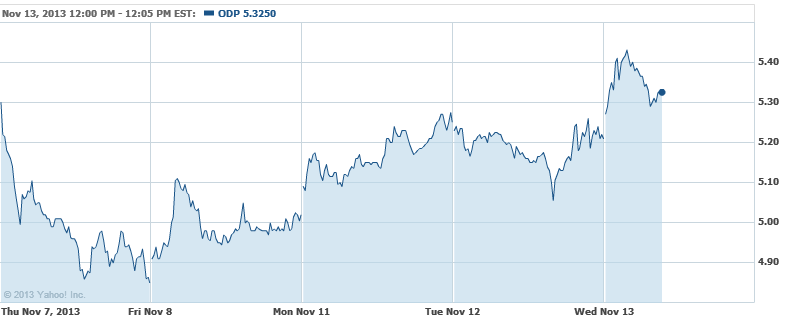 Lululemon Athletica Inc. (NASDAQ:LULU): Shares are up as JPMorgan launches coverage of the apparel maker with an Overweight rating and an $84 price target — the disclosure of a new CEO and the continued strength in Lululemon's online business should also be significant catalysts next year, the firm says.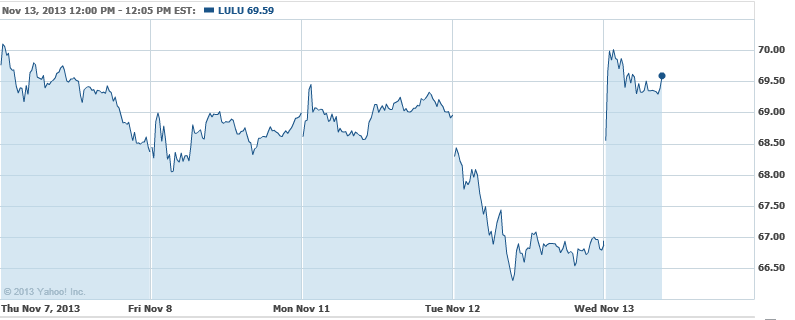 Don't Miss: GM Will Consider a Hotter SS If the Demand Exists.