GM Turns Up Heat on China, Toyota Remains No. 1, and 3 More Hot Stocks
General Motors Co. (NYSE:GM): Though General Motors has been the largest automaker in China for the last eight years, Volkswagen (VLKAY.PK) has been hot on its heels and is forcing the Detroit-based company to ramp up its strategy in the country. Among General Motors's priorities is stronger competition in the SUV market, and it plans to have nine new models in the category over the next five years. Huge growth in the luxury segment will be paramount as well, as GM is eyeing 100,000 Cadillac sales in 2015, good for 10 percent of China's luxury market.

Toyota Motor Corp. (NYSE:TM): A falling yen has helped Toyota maintain its global sales lead by volume, outselling GM for the second time in three quarters. Toyota moved 2.5 million vehicles in the July-to-September period, up 2.8 percent from a year earlier, Bloomberg reports. GM came close behind, with 2.4 million vehicles sold, and VW rounded out the top three, with 2.33 million. Toyota sold 7.41 million vehicles compared to GM's 7.25 million and VW's 7.03 million for the first nine months of the year.
Nippon Telegraph and Telephone Corp. (NYSE:NTT): Nippon unit NTT Communications has agreed to purchase Virtela Technology, which is based in Denver, for $525 million. The buy will allow NTT to offer global data services but without having to license cables and lines in individual markets; NTT will also upgrade its cloud-based network services with Virtela's network function virtualization technology.

Sohu.com Inc. (NASDAQ:SOHU): Shares of Sohu are plunging almost 15 percent as earnings per share of 58 cents missed by 1 penny, though revenues of  $368 million beat by 3.4 million. However, Sohu is guiding for fourth-quarter EPS of 30 cents-35 cents, well below the consensus of 48 cents; no explanation was provided for the shortfall. Sohu's online gambling Changyou subsidiary also reported lower-than-expected guidance, helping to fuel the sell-off. Although Sohu's online ad sales grew 56 percent over last year, online game revenue from Changyou — 44 percent of revenue — fell 4 percent over last quarter.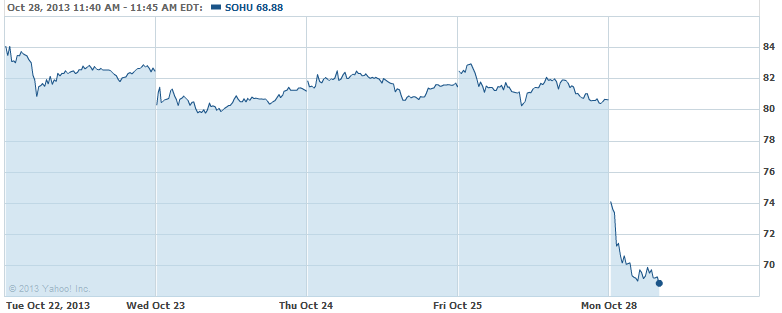 AMC Networks Inc. (NASDAQ:AMCX): AMC Networks revealed that it will be buying Chellomedia from Liberty Global Media (NASDAQ:LBTYA), a deal that's valued at close to $1.035 billion. The buy will allow AMC to push its programming through Chellomedia's TV channels in Europe and Latin America; the transaction is due to be completed during the first quarter of next year.
Don't Miss: 7 Cars That Deliver Cool Under $20K.