GM Will Consider a Hotter SS If the Demand Exists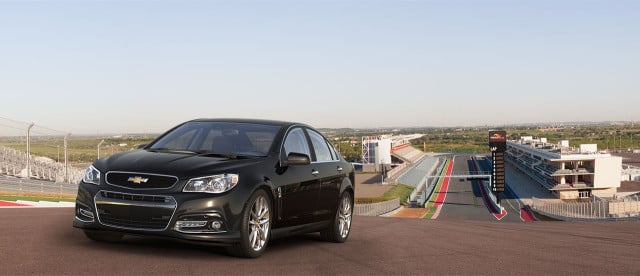 Late last week, news broke that if the demand existed, Chevrolet (NYSE:GM) would consider the introduction of a more powerful, better SS sedan to the United States.
General Motors's division in the land down under — Holden — has been known to create some of the most beastly yet affordable cars for their relative performance. The Commodore, one of Holden's large sedans, is what Americans will soon know as the SS — but while the 415 horsepower, V8-powered family friendly hauler will only be available in one trim here, Australians are currently enjoying 455 and 580 horsepower versions.
So why not bring those here, as well?
That's the big question that General Motors has seemingly been grappling with as it prepares to launch the SS in showrooms. While it would only seem like a natural progression, there's one glaring problem standing in the way: high-performance, full-size sedans have never really been America's thing — at least not like they are in Europe or Australia, apparently.

The release of the SS is therefore a sort of renewed experiment to take the temperature of the current American auto climate. It's also a continued effort that was started by the Pontiac G8 GXP, before the brand was snuffed out mid-financial crisis.
"People say all the time, 'Why don't we have a six-speed manual? Why just one engine?'" said Chevrolet Performance Cars Marketing Manager John Fitzpatrick at the recent SEMA show in Las Vegas. Buyers of the SS have the option of one of five colors, a sunroof, and a full-size spare tire. Everything else is static, including the six-speed automatic transmission and a 415 horsepower, 6.2-liter V8 engine.
It was after the Pontiac G8 failed to meet its expected sales goal of 30,000 annual units that Chevrolet had to do some heavy re-evaluating of the American hot-sedan scene. For the SS, Chevrolet is aiming for 2,000 to 3,000 sales per year.
However, should the SS — which runs in the $45,000 ballpark — meet those revised numbers, Fitzpatrick said that Chevrolet would definitely be interested in at least looking into bringing over the manual transmission and more powerful versions. Additionally, General Motors wanted to keep variations down to keep profits up, at least initially, and the company says shipping constraints have limited the numbers currently entering the United States, Automotive.com reports.