General Motors (NYSE:GM): Cadillac's new pipeline could drive the brand to 30 percent sales growth, at least according to Bob Ferguson, vice president of global Cadillac. That includes the 2014 CTS that goes on sale this fall, and the plug-in 2014 ELR coupe. The corporation is "very committed to expanding the Cadillac product portfolio," Ferguson said. "If you look at what our competitors offer, whether it's Mercedes, BMW or Lexus, Audi, Acura, they have a broader product portfolio than we do currently," he added. "So we want to win the in the marketplace and that will mean expanding our vehicle lineup."

Rio Tinto (NYSE:RIO): Reports indicate that three suitors are interested in Rio's $3 billion worth of Australian thermal coal assets, among them being the largest coal producer by output, Coal India. The assets include a stake of up to 29 percent in Rio's New South Wales Coal & Allied unit, as the company continues its strategy of shedding off its less profitable assets.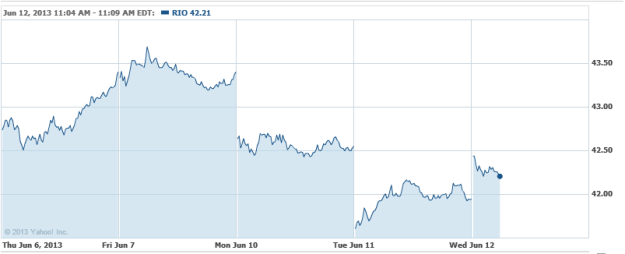 Vodafone (NASDAQ:VOD): Europe's largest wireless operator has confirmed that it has reached out to TV, Internet and telecom provider Kabel Deutschland about a possible offer for the company, after informally approaching the company last week. "There is no certainty that any offer will ultimately be made nor as to the terms on which any such offer might be made," the statement reads, though its likely that one will be made eventually.

Caterpillar (NYSE:CAT): Wisconsin Steelworkers have approved a six-year contract with the company, through a "very close" vote. The deal will freeze hourly wages for current staff for the lifetime of the agreement, and pay new hires less — although Caterpillar will issue out bonuses of $4,000 per worker in return for approving the contract. The company will additionally pay veteran employees annual bonuses based on the performance of the company.

Sony (NYSE:SNE): Sony has raised its initial internal sales estimates for the PlayStation 4, based on early indications that demand will be stronger than thought previously. Now, one of the largest concerns among management is the supply necessary to meet said demand. With a $100 premium over the PS4 and tighter restrictions on game sharing, Microsoft's (NASDAQ:MSFT) Xbox seems to be pushing more gamers Sony's way.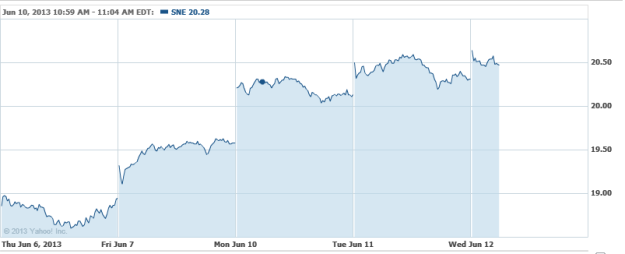 Don't Miss: Lincoln Will Have You Smell and Taste Your Way to a Car.