GM's Busy Week, Verizon's NSA Predicament, and 3 More Hot Stocks
General Motors (NYSE:GM): GM's partner in China SAIC Auto moved 404,655 vehicles in May, a 9.6 percent increase over the year prior, helping boost GM's strong Chinese results after decent — but not spectacular — domestic sales which were largely driven by the 23 percent uptick in truck sales. It's been a busy week for the automaker — separately, the Treasury will be shedding 30 million GM shares, and the company was welcomed back to the S&P 500.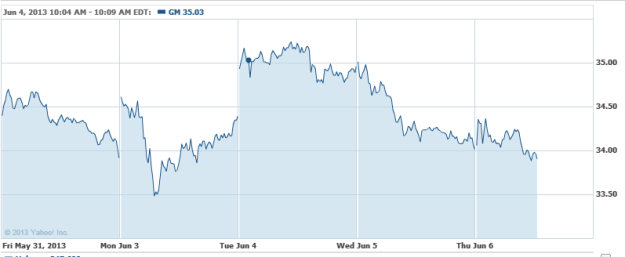 Verizon Wireless (NYSE:VZ): To add to the list of government scandals and issues weighing on the country, the Guardian in London managed to obtain — and posted — a "top secret" report indicating that the National Security Agency ordered that Verizon turnover its log of phone records of all calls made within the U.S. or originating in the U.S., through July 19, 2013. Though unknown now, the Guardian says its likely an order administered to other carriers as well.

Genworth Financial, Inc. (NYSE:GNW): The firm has continued its cost cutting measures, with the announcement of the elimination of 400 positions, and a reduction in information technology spending plans. All told, the measures will save $80 million-$90 million annually, or about 1 percent of its operating expenses, and the company anticipates a $15 million-$20 million Q2 charge.

Rite Aid Corp. (NYSE:RAD): Same store sales during May fell 1.5 percent year-over-year, attributed largely to declines in pharmacy sales. Generic sales were going up against a month last year when Express Scripts was at odds with Walgreen's (NYSE:WAG) over payment problems, giving Rite Aid a tough comparable to beat.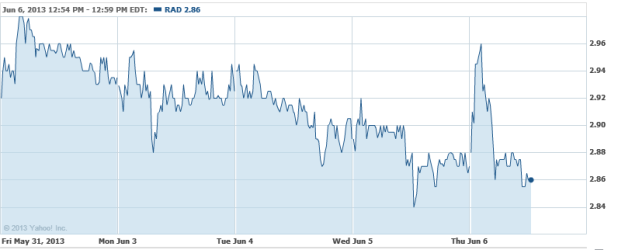 Vera Bradley (NASDAQ:VRA): Shares of Vera are down considerably, even after narrow beats on both earnings and revenue but a decline in guidance. Comparable store sales only grew 0.9 percent during the quarter, but was offset by a boom in e-commerce sales. The company expects revenue of $123 to $126 million during the second quarter, and a decline in EPS, falling in a range of $0.31-$0.33.

Don't Miss: GM's Getting This Prize From the Government.