Gold and Silver Climb Higher on Strong Earnings and Europe Optimism
On Wednesday, gold (NYSE:GLD) futures for December delivery rose $21.60 to settle at $1,682.60 per ounce, while silver (NYSE:SLV) futures jumped 79 cents to settle at $32.78.
POPULAR: Will Endeavour Silver Lead a Great Mining Rally?
The US dollar (NYSE:UUP) declined as President of the European Commission José Manuel Barroso said banks in Europe should temporarily raise their capital reserves to better weather markets made turbulent by the region's sovereign debt problems.  After lawmakers rejected measures to expand the European Financial Stability Facility, Slovakia's political parties are rushing to find a way to approve the enhanced rescue fund. Prime Minister Iveta Radicova wants to start talks today with the opposition on a second vote.  Slovakia is the only remaining country in the 17-member euro zone that has not approved measures that would increase the EFSF's effective lending capacity to 440 billion euros, give it the power to inject capital into banks, and allow it to buy the bonds of distressed governments on the open market. Slovakia, one of the poorest countries in the euro zone, is being asked to guarantee 7.7 billion euros of the 440 billion-euro fund.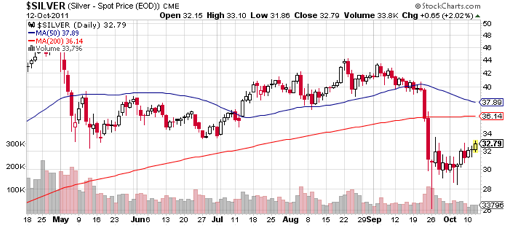 Gold miners (NYSE:GDX) such as Yamana Gold (NYSE:AUY) and Barrick Gold (NYSE:ABX) traded nearly 2% higher in afternoon trading.  Silver miner (NYSE:SIL) First Majestic Silver (NYSE:AG) gained 2.25%, while Endeavour Silver (NYSE:EXK) surged more than 6% during the trading day after releasing strong earnings.  On Tuesday, the company reported impressive third quarter results.  Revenue surged 93% for the quarter to $38.8 million.  The surge was a result of both higher silver and gold production, and also higher realized metal prices.  Last week, the company's CFO Dan Dickson explained, "We've seen seven consecutive years of production, reserve, and resource growth, and four consecutive years of revenue cash flow and earnings growth. In that time, we've seen falling cash costs, and we expect to continue that for a while and see our profit margins improve even further."
If you would like to receive more professional analysis on equity miners and other precious metal investments, we invite you to try our premium service free for 14 days.
POPULAR: What Does the Unemployment Picture Mean for Precious Metals?>>