Gold and Silver Edge Lower as Federal Reserve President Doubts QE Benefits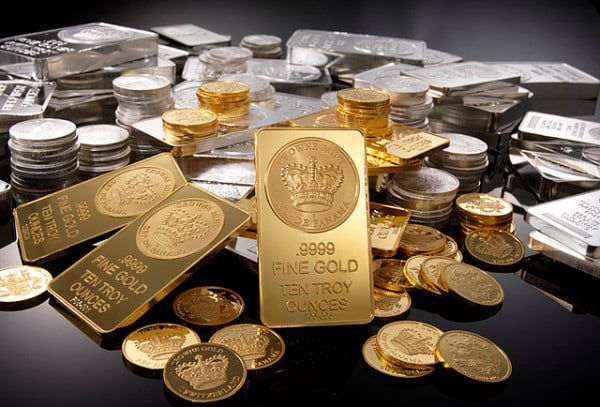 On Monday, gold (NYSEARCA:GLD) futures for December — the most active contract — decreased $5.30 to close at $1,365.70 per ounce, while silver (NYSEARCA:SLV) futures for September edged 16 cents lower to finish at $23.17. Both precious metals experienced weakness as the market continues to speculate about the future of the Federal Reserve's quantitative easing programs. The yield on the 10-year Treasury note reached 2.90 percent, its highest level in more than two years.
In a recent interview with the Richmond Times Dispatch, Jeffrey Lacker from the Richmond Federal Reserve Bank said that sluggish growth is unlikely change, despite the central bank's QE programs.
He explains, "The data in the first half of the year in my view is confirming my sense that the asset purchases were unlikely to have a noticeable effect on growth. Back last fall when the asset purchases began, many were expecting a pickup in real economic growth the first half of this year. We have not seen that.
Lacker continued, "In fact, growth has been pretty disappointing in the first half of this year. I have come to believe that growth is going to come in around 2 percent — on the disappointing side — over the next couple of years, no matter what we do by way of asset purchases."
By the end of the trading day, shares of the SPDR Gold Trust (NYSEARCA:GLD) dipped 0.43 percent, while the iShares Silver Trust (NYSEARCA:SLV) closed flat. Yamana Gold (NYSE:AUY) managed to climb 0.62 percent higher, but Barrick Gold (NYSE:ABX) declined 0.52 percent. Shares of First Majestic Silver (NYSE:AG) and Endeavour Silver (NYSE:EXK) both fell more than 2 percent.
Don't Miss: Are Gold Bugs Becoming More Interested in Physical Gold?
Follow Eric on Twitter @Mr_Eric_WSCS
If you would like to receive professional analysis on miners and other precious metal investments, we invite you to try our premium service free for 14 days.
Disclosure: Long EXK, AG, HL, PHYS