Gold and Silver End the Week 1.8% Higher
On Friday, gold futures for December delivery jumped $28.50 to settle at $1,788.10 per ounce, while silver futures surged 58 cents to settle at $34.68.
Italy's Senate has approved debt-reduction measures intended to shore up investor confidence and pave the way for a new interim government that may be led by former European Union Competition Commissioner Mario Monti.
Investor Insights: Will Gold Offer Protection from a Thanksgiving Feast?
The Senate in Rome voted 156 to 12 to pass the package of austerity measures promised to the European Union in order to secure further bond purchases. Opposition lawmakers did not take part in the vote, allowing the bill to pass.  The Chamber of Deputies will give final approval of the legislation tomorrow, after which Prime Minister Silvio Berlusconi will formally tender his resignation.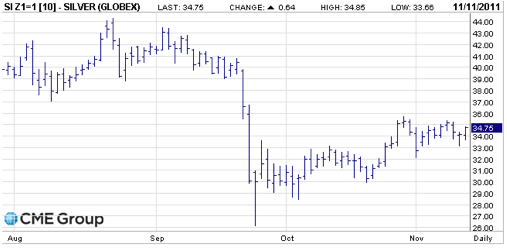 With the bond markets closed, it was a "risk on" day for US markets.  The Dow (NYSEARCA:DIA) and S&P 500 (NYSEARCA:SPY) both jumped more than 2%.  The SPDR Gold Trust (NYSEARCA:GLD) climbed 1.6% higher, and the iShares Silver Trust (NYSEARCA:SLV) gained 2.05% in afternoon trading.  Gold miners (NYSEARCA:GDX) such as  Barrick Gold (NYSE:ABX) and Yamana Gold (NYSE:AUY) surged more than 3%.  First Majestic Silver (NYSE:AG) increased 2%, while Endeavour Silver (NYSE:EXK) jumped 7%.
Gold traders and analysts are the most bullish they've been in at least seven years as investors accumulate the metal at the fastest pace since August as the European debt crisis pushes them to seek safe-haven investments.
The results of a Bloomberg survey have 21 of 22 traders and analysts predicting bullion will rise on the Comex in New York next week, for the third consecutive increase and the highest proportion in data dating back to April 2004. Holdings in exchange-traded products backed by gold such as the SPDR Gold Trust jumped by 27.5 metric tons this week, within 1% of the record set nearly three months ago.
If you would like to receive more professional analysis on equity miners and other precious metal investments, we invite you to try our premium service free for 14 days.