Gold and Silver Get Boost On Euro News
Both Gold (NYSE:GLD) and Silver (NYSE:SLV) are trading slightly higher today, putting them noticeably in the overall green for the week. Today concerns over the Greek default were calmed and the Euro currency rose stiffly against the dollar, gaining .77% so far in trades. The US dollar continues to sway in trading this week, down today after posting substantial comparative gains through most of last week. Gold (NYSE:GLD) and Silver (NYSE:SLV) prices are generally thought to move inversely with the dollar, though this week they have stagnated as the dollar has shed some value. For more analysis on our support levels and ranges for gold and silver, consider a free 14-day trial to our acclaimed Gold & Silver Investment Newsletter.
The future of the Euro continues to look more promising than that of the dollar, at least in the eyes of the IMF. Today the intl. financial forum lowered its projected outlook for U.S. economic growth, citing concerns with the out of control budget deficit as the chief reason. The IMF contrarily upped its outlook for future performance in the EuroZone, projecting higher than expected GDP growth in the next year. If the IMF predictions hold true, gold and silver may continue to hold appeal as the dollar will likely continue to fall against the Euro.
Here's some technicals on how gold and silver are doing this week.
Gold (NYSE:GLD) Here: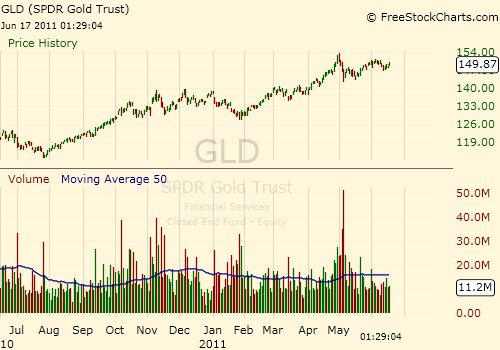 And Silver (NYSE:SLV) down below: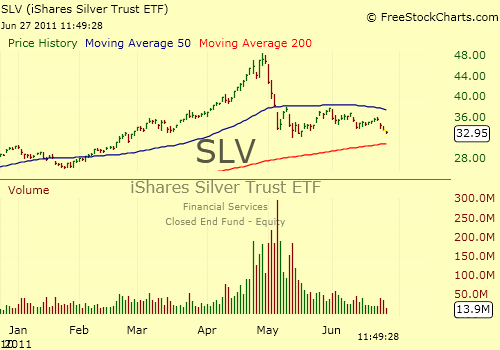 Father's Day is Approaching June 19th (Gift a Free Trial): Make Your Father the Rich Dad with Wall St. Cheat Sheet's Winning Gold & Silver Premium Investment Newsletter!