Gold and Silver Jump After Bernanke and Einhorn Speak
On Wednesday, gold (AMEX:GLD) futures for December delivery gained $17.80 to settle at $1,729.60 per ounce, while silver (AMEX:SLV) futures jumped $1.21 to settle at $33.94.
Announcing no new monetary policies today, the Federal Open Market Committee instead focused on giving a progress report, offering a moderately brighter economic outlook, but flagging risks to growth that might require further easing down the line.
"Economic growth strengthened somewhat in the third quarter," the central bank said a statement released after the FOMC meeting. "Nonetheless, recent indicators point to continuing weakness in overall labor market conditions, and the unemployment rate remains elevated."  More importantly, the Fed downgraded GDP and unemployment rate estimates.  The Fed now estimates that the world's largest economy will expand by 2.5%-2.9% next year, down from the previous 3.3%-3.7% estimate.  The unemployment rate is expected to be at 6.8%-7.7% at the end of 2014.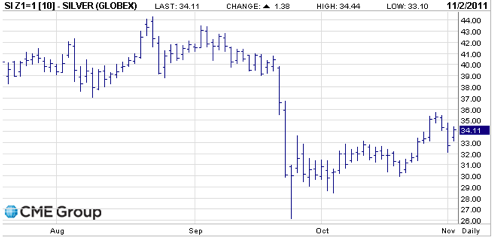 Despite no further QE announcement, gold and silver equities climbed higher.  Gold miners (AMEX:GDX) Barrick Gold (NYSE:ABX) and Yamana Gold (NYSE:AUY) climbed more than 1% higher in afternoon trading.  Freeport-McMoRan Copper & Gold (NYSE:FCX) gained nearly 2% as it continues to battle the $40 price level.  Silver miner (NYSE:SIL) First Majestic (NYSE:AG) climbed nearly 4%, while Fortuna Silver (NYSE:FSM) gained more than 2%.
Investor Insight: How Long Will Gold Miners Lag Bullion Prices?
Hedge-fund manager and Greenlight Capital chairman, David Einhorn, believes that the growing disconnect between gold miners and bullion prices will reverse course.  He said, "A substantial disconnect has developed between the price of gold and the mining companies.  With gold at today's price, the mining companies have the potential to generate double-digit free cash flow returns and offer attractive risk-adjusted returns even if gold does not advance further.  Since we believe gold will continue to rise, we expect gold stocks to do even better."  Furthermore, gold futures traded in New York may rise 12% to $1,950 an ounce by the end of the first quarter, according to the median of estimates collected by Bloomberg.  The predictions are from eight of the top ten analysts tracked by Bloomberg over the past eight quarters.
If you would like to receive more professional analysis on equity miners and other precious metal investments, we invite you to try our premium service free for 14 days.