Gold and Silver Rebound, But Still Log a Miserable Quarter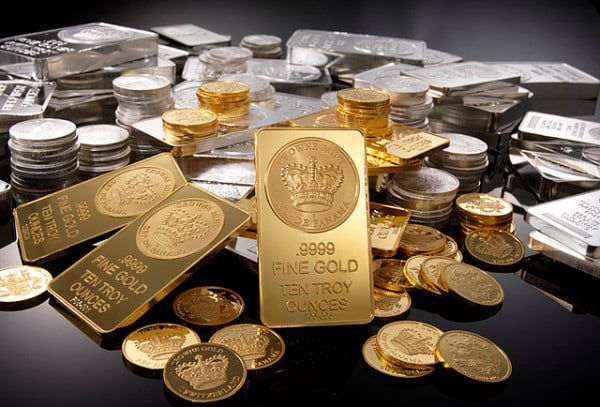 On Friday, gold (NYSEARCA:GLD) futures for August delivery, the most active contract, increased $12.10 to close at $1,223.70 per ounce, while silver (NYSEARCA:SLV) futures for September jumped 92 cents to finish at $19.47. It was gold's first day of gains all week.
Both precious metals climbed higher, despite a better-than-expected consumer sentiment report. According to Thomson Reuters/University of Michigan, consumer sentiment in June came in at 84.1. Economists polled by Reuters expected a final June reading of 82.8.
Richard Curtin, survey director, said in a statement, "Consumers believe the economic recovery has achieved an upward momentum that will not be easily reversed. To be sure, few high or low income consumers expect the economy to post robust gains or think the unemployment rate will drastically shrink during the year ahead."
Despite the slight rebound, both precious metals logged their biggest quarterly gain since America went off the gold standard. Gold plunged about 23 percent over the past three months, while silver dropped around 31 percent.
Christopher Vecchio, currency analyst at DailyFX, explains in an email, "Call it what you will, but these are liquidation type conditions, not the hallmark of rational investing." He continues, "It is possible, however, that a near-term bottom in Gold may be around the corner."
By the end of the trading day, shares of the SPDR Gold Trust (NYSEARCA:GLD) jumped 2.7 percent, while the iShares Silver Trust (NYSEARCA:SLV) surged 6.0 percent. Shares of gold miners (NYSEARCA:GDX) such as Barrick Gold (NYSE:ABX) and Yamana Gold (NYSE:AUY) gained 5.9 percent and 8.1 percent, respectively. Shares of Endeavour Silver (NYSE:EXK) increased 15.1 percent.
Don't Miss: Will Gold Ever Get its Shine Back?
Follow Eric on Twitter (@Mr_Eric_WSCS)
If you would like to receive professional analysis on miners and other precious metal investments, we invite you to try our premium service free for 14 days.
Disclosure: Long EXK, AG, HL, PHYS